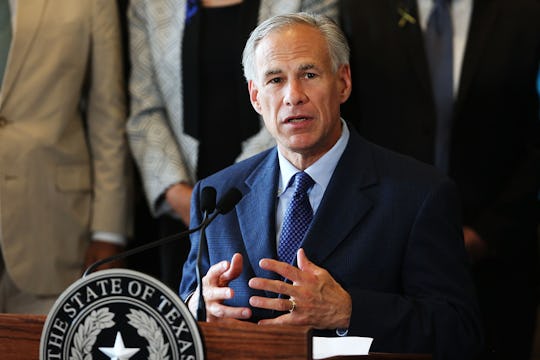 Spencer Platt/Getty Images News/Getty Images
Bill Could Make Driving Women To Their Abortions Illegal
On Friday afternoon, the Texas Senate approved a new anti-abortion bill that could have wide-ranging repercussions on women seeking abortions in the state — and anyone who happens to assist them in that process. The new bill could make driving women to their abortions illegal, since it would allow prosecutors to charge virtually anyone involved in an unlawful abortion with a state jail felony. Other people who could get charged under Senate Bill 8 include receptionists booking abortion appointments, bank tellers cashing cheques to pay for the procedure, and any medical professionals involved in the procedure.
Texas can't outlaw abortion entirely, of course, but Texas' new bill could place significant limits on the procedure in the state, according to The Texas Observer. SB 8, which now only needs approval from Texas Gov. Greg Abbott in order to go into effect by Sept. 1, would criminalize "partial birth abortions" (unnecessary, as the procedure is already illegal in the United States), as well as dilation and evacuation, the most common procedure used in second-trimester abortions. There would be no exceptions for incest or rape in either case.
It would also require all tissue removed during an abortion to be buried or cremated, and it would ban fetal tissue donation entirely, according to The Dallas Observer. Individual physicians would have to file abortion paperwork, rather than having clinics to do it, making it easier for minor reporting errors to cost a physician their license, according to KUT. The state would continue to prohibit abortions past 20 weeks' gestation.
The bill brings a lot of new limitations to the table, and Texas Rep. Joe Moody told The Texas Observer that the ability to prosecute anyone related to a woman's attempt to pursue an unlawful abortion concerned him. "If the goal is to prosecute people who perform these acts, what's written here goes way beyond that," Moody told The Texas Observer. "Prosecutors have wide discretion on the charges being brought."
Texas has already tried to force health care providers to bury or cremate fetal tissue in the past — a rule that was blocked by a federal judge in December, according to KUT. Several organizations lodged lawsuits against the state, arguing that the rule was unconstitutional and did nothing to further women's health.
Gov. Abbott — who has shown support in the past for anti-abortion groups — is likely to pass the bill, but Texas lawmakers should prepare for a fight in court over the new ruling.
"From banning a safe method of abortion to doubling down on regulations already blocked by a federal court, Texas politicians continue their crusade against a woman's right to safe and legal abortion," Amanda Allen, senior state legislative counsel at the Center for Reproductive Rights, told The Austin Chronicle. "The Center for Reproductive Rights vows to battle any unconstitutional measures in the courts until the rights of Texas women are respected and protected."
Hopefully, women's health and autonomy over their bodies will win out over anti-abortion rhetoric in Texas soon, despite lawmakers' clear attempts to limit rights.