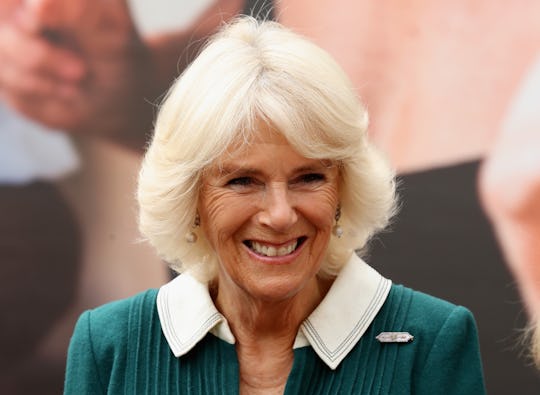 Chris Jackson/Getty Images Entertainment/Getty Images
Duchess Camilla Addressed Meghan Markle's Family Drama In The Classiest Way
With the royal wedding five whole days behind us, it seems that talk about the history-making wedding at St. George's has finally quieted down. Just kidding, royal fever is hotter than ever, as details about the amazingly glamorous day are revealed bit by bit. Though the world is still captivated by everything from Duchess of Sussex Meghan Markle's wedding gown to that swoon-worthy "you look amazing" moment she shared with her prince, nothing has stirred up quite so much interest Thomas Markle, Meghan's dad being unable to attend the wedding. Now, one of the royal family members is commenting on the ordeal: Duchess Camilla spoke out about Meghan Markle's family drama, and put to rest any rumors that there's bad blood there.
For those who haven't kept up with the royal happenings, Thomas Markle did not attend his daughter's wedding due to health issues that required surgical treatment, Town and Country reported. Since Meghan released her own personal statement addressing the rumors, Duchess Camilla was the first royal to speak out about the whole thing. She said, according to AOL: "It was such a lovely day. Just everything went right. We all wondered whatever would happen next and then everything went right."
The drama first started on May 14, just a few days before the wedding, when TMZ reported that Thomas wasn't going to attend due to the fallout from the "staged photos" he allegedly sold of himself. He told the site that he meant no harm to Meghan or the royal family, and that his reasoning for doing it was "not principally about money."
However, things took a turn for the worse when it was reported that Thomas was also undergoing some significant health issues. TMZ also reported that Meghan's father would need heart surgery just a day later, meaning that he would be unable to travel from Mexico (his place of residence) all the way to the U.K. safely. Harry's father Prince Charles walked Meghan down the aisle. Confirming the rumors that her father wouldn't be attending the nuptials, Meghan released her own statement via Kensington Palace's official Twitter account, in which she wrote:
Sadly, my father will not be attending our wedding. I have always cared for my father and hope he can be given the space he needs to focus on his health.
Many people have speculated that Meghan's statement was filled with hidden meanings. Harper's Bazaar reported that not only was it significant for an official statement to be written in the first person (most are penned by royal communications officials) but that even the language used was meant to send a message to Thomas. For example, people think the phrase "given the space" implies that his relationship with the press should be put on the back burner until everything is resolved.
Regardless of what Meghan's intent was with the statement, it's clear thet her loyalty is still with her father. On Wednesday, Marie Claire reported that insiders claim Meghan and Harry are planning to travel to Mexico to visit her father, though it didn't say whether they'd be jetting off to their honeymoon before or after.
Similarly, Thomas sent his well wishes from afar on her big day. He reportedly told TMZ: "My baby looks beautiful and she looks very happy. I wish I were there and I wish them all my love and all happiness."
Between that statement, Meghan's, and now Camilla's, it's clear that the royal family is prioritizing diplomacy over anything else (as usual). It's obvious that they want to communicate to the world that Meghan's father is still held in high regard, and that she cares deeply for her dad, despite him having missed such a big day in her life. Sometimes, things like this happen, and the royals are showing everyone the most polite and poised way to respond.