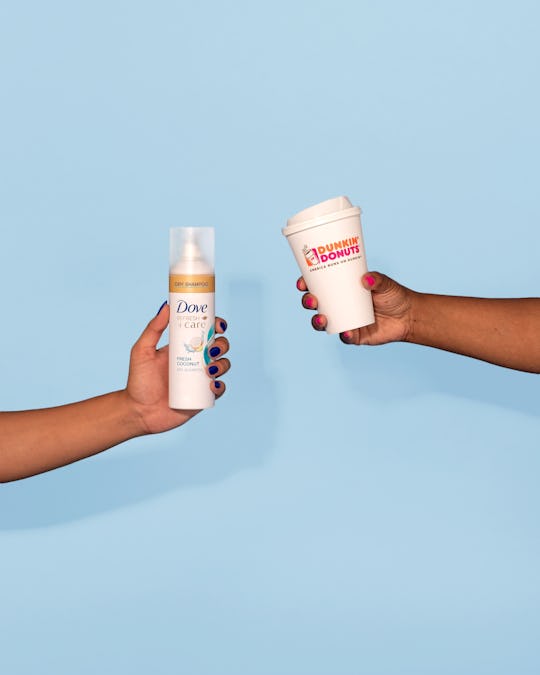 Courtesy Of Dove Hair and Dunkin' Donuts
Dunkin' Donuts Is Giving Away A Year's Worth Of Coffee & Dry Shampoo — Freal
When schedules are jam-packed with activities from morning until late night, there's nothing like some caffeine and simple beauty hacks to make the day more bearable. Now, a collaboration between Dove Hair and Dunkin' Donuts will reward one lucky person with a year's worth of free coffee and dry shampoo. For anyone who lives life on the go, this is a pretty sweet deal.
To celebrate the dual life hacks of coffee and dry shampoo, the #DoveXDunkin Ultimate Life Hack Sweepstakes will take over social media. Simply share a photo of the way you're running on coffee and dry shampoo to Twitter or Instagram with the hashtags #DoveXDunkin and #DxDSweepstakes, and you can win this contest. The prize includes a year's supply of Dunkin' Donuts coffee and Dove Dry Shampoo, as well as cool merch branded with #DoveXDunkin tag. Whether you're running to the gym, the office, or the school drop off line, a spritz of dry shampoo and a hit of coffee can work wonders, so consider taking a pic when you're out doing your thing. With celebrities such as Sara Foster, Barbara Bermuda, and Adriene Bailon-Houghton telling their coffee and dry shampoo stories as well, it's a pretty big celebration of the little things that make everyday life a bit easier. Entries are open through November 8, 2018.
Like so many trends, the love for dry shampoo and coffee began online. "Social media has exploded with women sharing how coffee and dry shampoo are their secrets to getting up, out and on with their day . . . taking them from the gym, to the carpool, to the board room," said Piyush Jain, Vice President of Haircare for Unilever. "We're excited to bring together this unlikely but perfect pairing in a surprising collaboration between Dunkin' and Dove Dry Shampoo." Plus, this particular campaign has some events in the real world as well.
For instance, the #DoveXDunkin Styling Café will be open on Monday, October 1 from 7:00am to 3:00pm at the Flatiron Plaza in NYC. Show up for a free small Dunkin' Donuts coffee (either hot or iced), as well as a free mini-styling appointment with Dove Dry Shampoo. It's the perfect little pick me up, in other words. Plus, you can also get cool #DoveXDunkin merch such as tote bags, hair ties, and travel cups.
Hot on the heels of its rebranding to just Dunkin', effective January 2019, this increased focus on coffee is all part of Dunkin' Donuts growth, as noted on CNBC. These days, it's all about coffee and convenience. "This National Coffee Day, we're excited to be running with Dove as we show our appreciation for busy, on-the-go women who turn to coffee and dry shampoo to fuel their days and save time," said Patricia Healy, Senior Director of Integrated Marketing for Dunkin'. "As a brand that's all about unparalleled convenience, we celebrate life hacks like this that get and keep people running each and every day." In fact, for this National Coffee Day on Saturday, September 29, anyone who purchases a hot coffee at Dunkin' Donuts will get a second one for free to share with friends, family, or colleagues. Hey, throw on some dry shampoo and snap a pic as you receive a free coffee this Saturday, and your contest entry is all set.