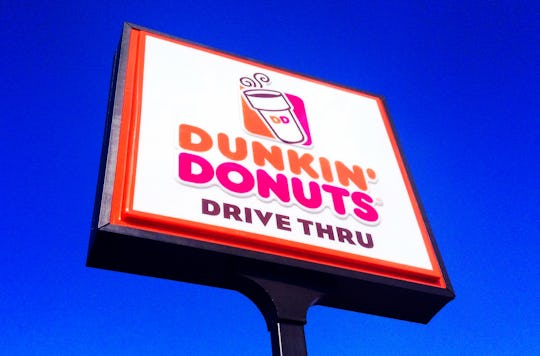 Mike Mozart/Flickr
Dunkin' Donuts Releases Festive Holiday Cup Amid Starbucks Red Cup Uproar, Wins Timing
Just as Starbucks is being criticized for its minimalist holiday cups in an Internet uproar the likes of which we haven't seen since that dress different people see in different colors, Dunkin' Donuts has released its own festive cup that looks a lot more in line with what Starbucks critics claim they want from their disposable holiday coffee cup. (And if we've learned anything this week, it's that coffee drinkers are PASSIONATE about their cups.)
When Starbucks released this year's holiday cup, religious conservatives decried the red cups' design a deliberate anti-religious move, pointing to its lack of any holiday or Christmas imagery (or any images at all). Past years' cups have depicted winter scenes, ornaments, and snowflakes (though one could argue that those are not necessarily Christian images either — whatever).
The hashtag #MerryChristmasStarbucks has become the Twitter rallying cry after a Christian activist used it to call out Starbucks for its "offensive" political correctness. After the rejection of the Nondiscrimination Ordinance in Houston, the call for "religious freedom" by conservative Christians and the general disdain for political correctness (or tolerance) seem to be, unfortunately, a growing trend. 2016 presidential candidate Donald Trump even weighed in on the matter and suggested a Starbucks boycott: "If I become president, we're all going to be saying 'Merry Christmas' again."
All of which could work in another coffee chain's favor. Dunkin' Donuts released its holiday cup this week, and while the design is not overly Christmas-themed, it's probably more likely to satisfy the red cup-haters than. Emblazoned with "Joy" and encircled with holly and spruce branches, there's no mistaking the holiday vibe of these cups. No minimalism here.
This goes to show that timing is everything. Dunkin' Donuts cups' have to have been in the works for a while, but there couldn't be a better time to release them. It could even will win them some new customers, since Dunkin' Donuts isn't yet known for holiday-themed drinks in the way Starbucks is. Although the deciding factor for consumers probably comes down to what's inside the cup.
Image: Mick Mozart/Flickr