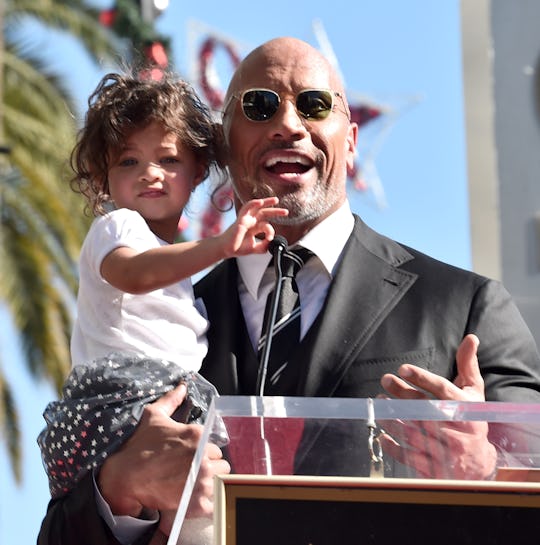 Alberto E. Rodriguez/Getty Images Entertainment/Getty Images
Dwanye "The Rock" Johnson's Advice To Parents Following His Daughter's Medical Emergency Is Spot-On
On the surface, Dwayne "The Rock" Johnson seems like a guy who can handle anything life throws his way. From Johnson's countless tough guy movie roles (The Scorpion King, anyone?) to his self-assured public persona, he comes across as someone who would keep his cool no matter what. And while it's true that Johnson is a pretty unflappable guy, he isn't immune to stress or fear, especially when it comes to his 2-year-old daughter, Jasmine. Case in point: Johnson went into panic mode on Saturday after an undisclosed medical issue sent Jasmine to the emergency room. Although Jasmine is doing OK following the incident, Johnson spoke out about the scare on Tuesday in hopes of helping fellow parents out there. And if you have a young child yourself, there's a good chance you'll want to pay attention to The Rock's advice to parents who might find themselves in a similar situation one day. Although Johnson's message is simple, it's definitely worth keeping in mind.
Back in December 2015, the Rock and his long-time girlfriend, Lauren Hashian, welcomed Jasmine into the world. Johnson, who also has a 16-year-old daughter from a previous relationship, loves being a dad and he always strives to be the best person he can be for his kids. "Give me the strength to be a better man today than I was yesterday," Johnson penned in an Instagram message a few days after Jasmine was born, according to People. "If I can accomplish that, then I'd have a good shot at being a great father."
Unfortunately for Johnson, his strength was tested on Saturday after Jasmine was hospitalized for an "emergency," according to ET Online. While one can assume Johnson is keeping the medical issue undisclosed for privacy reasons, he did get candid about how medical personnel kept him collected during the frightening ordeal. Johnson, to his credit, admitted that the 911 operator's calm demeanor helped him perform "some processes" to keep Jasmine safe.
"This past Saturday night something happened to me and my family that I would never want to happen to any of you guys out there. But of course emergencies do happen," Johnson told his fans, according to USA Today. "We were up all night in the emergency room. We had something scary that happened with our little baby girl, Jasmine."
"She's OK now, thank God," Johnson continued, according to The Mirror:
The 911 operator who was on the phone with me, who was extremely calm walking me through some processes, the Los Angeles Fire Department first responders, UCLA medical team and staff, the doctors, the nurses. Again, everybody, thank you everybody so, so much.
Johnson then ended his video message with an important reminder to parents, saying, according to Page Six:
To all you mommies and daddies out there, when emergencies like this happen, I just highly recommend that you stay as calm and focused as possible. Because our little babies, they energetically pick up what we're putting out, especially in times of stress.
It goes without saying that the best thing you can do during a medical scare is to stay calm. But what's worth noting about Johnson's message is what he said about kids picking up on what parents are "putting out." Not only is it beneficial to keep your emotions in check when you're tending to your child's injury, but experts also advise parents to remain cognizant about not appearing too stressed in front of their kids.
A 2007 study conducted by the American Psychological Association (APA) found that, out of the 1,000 kids surveyed, 90 percent confirmed that they can tell when their parents are stressed. The kids who observed stress in their parents also reported feeling worried, sad, and frustrated while their parent was upset, according to Parent Co. Additionally, the study determined that "children who say their parents are always stressed are more likely to report having great deal of stress themselves," according to the APA.
Of course, it's not possible to maintain your stress levels in front of your kids at all times. But as Johnson pointed out in his PSA, it's beneficial to stay as calm as possible in front of your children. Not only can a cool head possibly save your child's life in the event of a medical emergency, but it can also help their emotional well-being.
Check out Romper's new video series, Bearing The Motherload, where disagreeing parents from different sides of an issue sit down with a mediator and talk about how to support (and not judge) each other's parenting perspectives. New episodes air Mondays on Facebook.