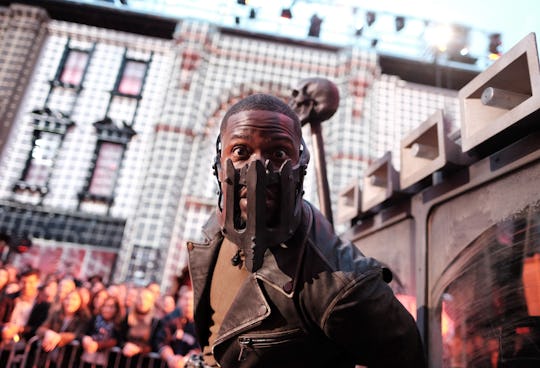 Jason Kempin/Getty Images Entertainment/Getty Images
Dwayne Johnson & Kevin Hart's MTV Movie Awards Entrance Paid Homage To 'Mad Max'
When it comes to MTV, the award shows are very unpredictable. Anything can happen and something crazy usually does — just look at the MTV Music Video Awards. So, it was no surprise that MTV Movie Awards hosts Kevin Hart and Dwayne Johnson came out guns blazing — literally. Dwayne Johnson and Kevin Hart's MTV Movie Awards entrance paid homage to Mad Max — and it was amazing.
The show had a very surprising start that I definitely did not expect from the two co-hosts. Hart and Johnson opened the show with both of them riding on a flaming car being carried by actors that looked like they walked straight off of the Mad Max: Fury Road set.
Hart wore a mask covering his mouth, chained to the car. Johnson, on the other hand, wore a great looking crop top and and played the guitar, much like the character in Mad Max: Fury Road that stole the show from actors Charlize Theron and Tom Hardy.
Both hosts looked like they belonged on the set of Mad Max: Fury Road from their props to their costumes and the pyrotechnics shooting out flames to match.
It is no surprise that Johnson and Hart would pay homage to Mad Max: Fury Road, which was a huge hit when it debuted in movie theaters, grossing over $300 million worldwide. The film was also a huge hit at The 2015 Academy Awards. The movie won the most Academy Awards out of any nominated film — six total — including costume design and production design.
The audience seemed to love it, too, including celebrity and Mad Max: Fury Road star, Charlize Theron who was shown in the audience smiling and clapping at the hosts' antics.
The homage to the biggest film of the summer was perfect considering the award show's setting, filmed on the Warner Brother's backlot, where many movies have been filmed in the past. The MTV Movie Awards always does an excellent job at combining theatrics of the movies while still presenting awards, giving credit where credit is due. And there was a lot of credit to be given to Mad Max: Fury Road for making the best film of the summer.
The entrance was only the beginning of Johnson and Hart's crazy antics as hosts of the award shows and made for an exciting beginning to a very exciting night.