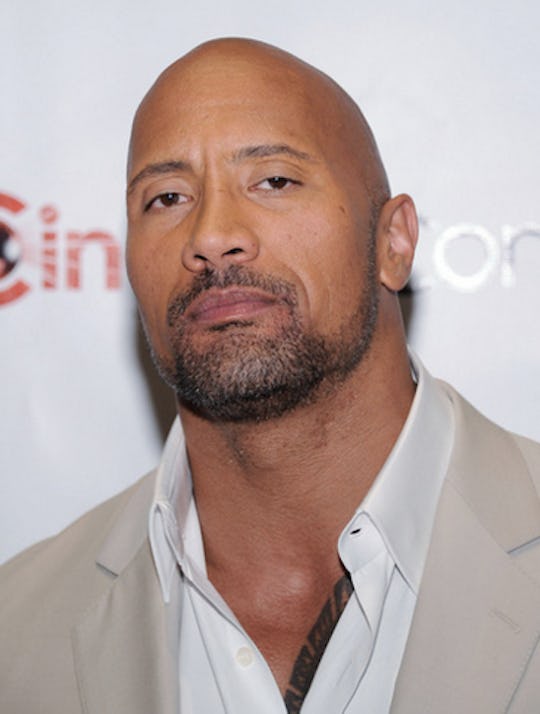 Lisa Marie/Flickr
Dwayne Johnson Shares Depression Struggle, & Has Some Inspiring Words For Those Who Are Suffering
Depression certainly doesn't discriminate. Famous or not, depression can strike anyone, at any time, sucking all the joy out of everything that should be making you happy, causing you to retreat from others, and leaving you feeling utterly alone. And apparently, Dwayne Johnson (aka "The Rock") knows all too well how that goes. Recently, The Rock opened up about his struggle with depression for the first time ever on Oprah's Master Class. In the episode, which airs Nov. 15, the pro-wrestler turned Hollywood action star, speaks candidly about a time in his life when he was at an ultimate low, and had no clue about what to do.
"I found that with depression one of the most important things you could realize is that you're not alone," Johnson shares in the episode. "You're not the first to go through it. You're not going to be the last to go through it and oftentimes you feel like you're alone and you feel like it's only you and you're in your bubble. I wish I had someone at that time who could just pull me aside and [say], 'Hey, it's going to be okay.'"
As Johnson explains, depression struck him when he was in his early twenties, trying to figure out what comes next. He was living with his parents in a small apartment when his dreams of playing football were crushed — Johnson was let go from the Canadian Football League and didn't make the cut for the NFL. As it later turned out, the Calgary Stampeders called Johnson soon after his dismissal, but by then The Rock had already decided to become a pro-wrestler and follow in Rocky, his father's footsteps. This experience taught Johnson to follow his gut, and, well, Johnson's dream comes full circle as he gets to play a retired NFL star on the HBO show Ballers, now in its second season.
I, for one, can totally relate to the paralyzing feeling of aloneness, when solitude can be your constant companion and yet your greatest enemy. But it sure looks like The Rock is now on the other side of sadness. He posted this picture with his girlfriend on Instagram just five days ago, announcing the arrival of a new baby girl.
According to People, Johnson confirmed that he's having a daughter with girlfriend Lauren Hashian. The news, which People reported on Nov. 10, has put Johnson over the moon. Some of the hashtags Johnson used in his birth announcement post show that The Rock is feeling good these days, with a rockin sense of humor. #BringOnMoreEstrogenInOurHome and #JustOverHereMakingBabiesAndStuff" are just two of the ways Johnson expressed his most recent joy.
It's heartwarming to learn that fatherhood, rather than fame, helped Johnson find happiness. From the promo clip for Oprah's Master Class episode, it looks like his 14-year-old daughter Simone (with ex-wife Dany Garcia) had a lot to do with his recovery.
Talking publicly about depression is always an incredibly brave move, because of the unnecessary shame attached to the disease. So I'm all about his choice, not only to seek help for himself, but to share his story with others in the hopes of reminding them that, hey, it's going to be OK.
Image: Lisa Marie/Flickr; therock/Instagram