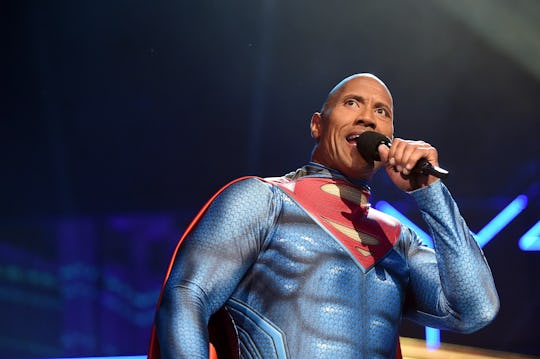 Emma McIntyre/Getty Images Entertainment/Getty Images
Dwayne Johnson's Birthday Message For His Daughter Shows Even Rocks Can Be Soft Sometimes
Dwayne Johnson, aka "The Rock," defies expectations. Ever since he came on the scene in his terrifying role in The Mummy he's had a tough guy appearance. (He goes by The Rock, after all.) But since becoming a father, he's softened up quite a bit and takes every opportunity to show how much he loves his kids. Dwayne Johnson's birthday message for his daughter on Instagram on Saturday was just too cute to handle.
Back in December, Johnson and his longtime partner Lauren Hashian added a new member to their little family. Jasmine is the couple's first child together. Johnson and ex-wife Dany Garcia have a 14-year-old daughter named Simone Alexander, who seriously resembles her famous father and was often his date to red carpet events growing up.
Jasmine is only 4 months old, so it isn't her true birthday yet, but Johnson takes his role of doting father very seriously. He went on Instagram this past Saturday to share an adorable photo of himself holding little Jasmine, as well as a heartfelt message to her. The message read:
I'm always asked - What inspires YOU?
My answer's easy and honest.. what inspires me the most is always waitin' for me to walk thru my front door when I come home.Happy 4 month birthday Jasmine! One day you'll know just how happy, proud, lucky and blessed you, your sister and your mama make me. You'll also thank me one day for your toughness and your mama's everything else.#HappyBirthdayJas #DaddysLilToughGirl #GratefulMan #Ohana4L
As a celebrity, Johnson is known for his privacy, but he does not hesitate to show his love for his family. It's clear that his children really are the most important thing in his life (and that Johnson's hashtagging skills are on point). This message will no doubt become something treasured and precious for Jasmine as she grows up. Learning to be tough and have grit is important for any little girl, and Jasmine's lucky to get to learn that from one of the toughest guys around.
Even at four months, Jasmine already resembles her dad in a lot of ways. She's got the same big eyes, that captivating stare, she's a tough cookie, but, one difference: she's got way more hair than The Rock has had in a long time.
This is not the first time Johnson has posted about baby Jasmine. On Christmas Eve he instagrammed a video of himself singing to her in front of a Christmas tree. She looked pretty small snoozing in the crook of his arm. He said, pretending to be Jasmine, "If Santa tries to scare me tonight, I'm gonna kick his ass, Daddy." Johnson goes to show that even rocks can have soft centers.