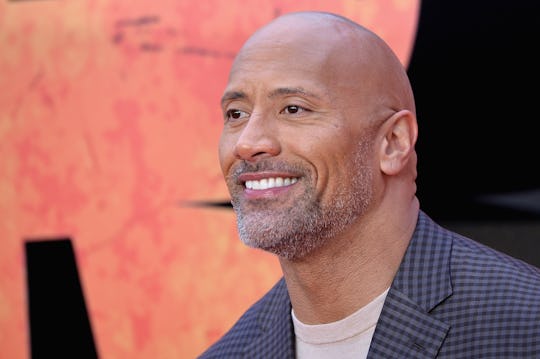 Jeff Spicer/Getty Images Entertainment/Getty Images
Why Dwayne "The Rock" Johnson Powers Through Exhaustion To Hang Out With His Daughter
Dwayne Johnson is as wise as he is ripped. And fans were recently reminded of this when The Rock shared why he powers through exhaustion to spend time with his daughter, Jasmine, who's only 2. When the hard-working action star was recently awakened after only a couple hours sleep by a little person telling him she needed to play, his response was impressive.
The star didn't get mad, and he also didn't tell his kiddo to buzz off so he could get some much-needed shut eye. No, he got out of bed, probably very early, which is when little kids like to wake up, and got ready for some serious one-on-one daddy-daughter time, exhaustion notwithstanding. Now, that's a dad.
"Working late and had only 3hrs sleep when this tornado 🌪 busts in our bedroom, jumps on me and pleads with me to get up and take her to my closet (she keeps toys in my closet) to play," Johnson captioned a photo in which he's holding 2-year-old Jasmine Lia, his oldest daughter with partner Lauren Hashian, according to People.
But he wasn't quite done with the cuteness. "...There's gonna come a time, years from now when jumping in my arms is the last thing she wants to do...So I'll always take these moments while I can."
I'm practically crying, this is so sweet. Of course, the actor's wisdom is somewhat hard-earned: He has a 17-year-old daughter with ex-wife Dany Garcia, according to Marie Claire, so he gets that children don't stay so precious and little forever. In addition to Jasmine, he and Hashian welcomed a second daughter, Tia Giana, in April of this year, according to BET.
Johnson's oldest, Simone Garcia Johnson, 17, was this year's Golden Globes Ambassador, an honor reserved for the grown child of a major star, with many of those who've had the job having gone on to stardom, including Freddie Prinze Jr. and Rumer Willis, according to InStyle. Business Insider reported that Simone Johnson wants to follow in her father's footsteps at the WWE, a path that the star fully supports.
Having seen the process of fatherhood fast-forward itself already, it seems like Johnson is determined to squeeze every ounce of joy out of being a dad again.
"I realized being a father is the greatest job I have ever had and the greatest job I will ever have," he said on Oprah's Master Class in 2015, according to HuffPost. "I've realized that the most important thing that I could do with my daughter is lead our life with love... Not success, not fame, not anything else but, 'I'm always here for you. I love you.'"
Beyond being a dad of three, Johnson, is pretty busy, between working out (over an hour a day, according to Business Insider) and juggling at least six upcoming film projects, according to IMDB. So it's clear that squeezing in that quality time is really important to him. And, already, Jasmine totally seems like The Rock's mini-me, the kind of kid that is all about daddy in the early years and content to follow a father around everywhere, even if it is only doing chores.
The best part is, soon Johnson will have another little fan toddling after him at home, so he shouldn't expect to catch up on those ZZZ's any time soon.