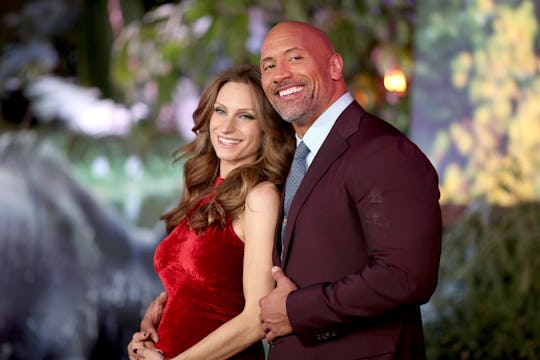 Christopher Polk/Getty Images Entertainment/Getty Images
Dwayne "The Rock" Johnson Revealed The Birth Of His Daughter With The *Sweetest* Announcement
Monday has been a record day for famous babies. After months of anticipation, Dwayne "The Rock" Johnson and girlfriend Lauren Hashian welcomed their second child, a baby girl named Tiana Gia Johnson, early this morning. The Rock took to his Instagram page to share the happy news, and added a message to his partner and new daughter, noting how powerful it is to bear witness to childbirth, and that he is completely committed to "love, protect, guide" and make his little girl laugh for the rest of her life.
"Tiana Gia Johnson came into this world like a force of nature and Mama @laurenhashianofficial labored and delivered like a true rockstar," he wrote on Instagram. "I was raised and surrounded by strong, loving women all my life, but after participating in baby Tia's delivery, it's hard to express the new level of love, respect and admiration I have for @laurenhashianofficial and all mamas and women out there."
He continued, "Word to the wise gentlemen, it's critical to be by your lady's head when she's delivering, being as supportive as you can.. holding hands, holding legs, whatever you can do. But, if you really want to understand the single most powerful and primal moment life will ever offer - watch your child being born."
The couple is already parents to 2-year-old Jasmine Johnson, and The Rock has another daughter from a previous relationship, 16-year-old Simone Johnson.
Back in December 2017, the couple announced that they were expecting again. The Rock also shared the news on Instagram first, uploading a photo of Jasmine in front of their Christmas tree under a sign that said: "It's a girl! I can't wait to be a big sister." He wrote:
Our Jasmine Lia would like to make a big announcement - IT'S A GIRL! [Hashian] and I are boundlessly grateful for this blessing as this spring we'll welcome our second baby. Plus, Jazzy is excited to boss around and protect her lil' sis. And once again, big daddy is completely surrounded by beautiful estrogen and loving, powerful female mana. All girls. One dude. And a boy dog. I wouldn't have it any other way.
The Rock has been an outspoken supporter of women, and a notably kick-butt dad. Us Weekly reported earlier this month that he had noted how much he was putting in an effort to take care of Lauren while she entered the final months of her pregnancy. "When the baby mama is sleeping, any movement in the middle of the night, any kind of just turning over, I'm like, 'Hey, are you OK?' Constantly," he told the publication. "It's an exciting time." He went on to say that he's being "very flexible and nimble," and always asking: "Are you OK honey? What do you need?"
In March, The Rock also posted a video with Jasmine in which he tried to teach her about International Women's Day. He had her repeat phrases like "Girl power!" and captioned it:
To every woman out there 'round the world - all ages and races - I proudly stand by your side to always honor, protect and respect. Especially, the loves of my life at home. Now if I can just get Jazzy to say the daddy is the most handsome, brilliant, sexiest man alive part, then we all gonna be cool.
There's absolutely no doubt that The Rock is excited to welcome yet another strong little woman to his clan, and that he's doing his very best to not only be the best dad he can, but the best partner as well. If there were any family that were #goals, they would definitely be it.
Check out Romper's new video series, Bearing The Motherload, where disagreeing parents from different sides of an issue sit down with a mediator and talk about how to support (and not judge) each other's parenting perspectives. New episodes air Mondays on Facebook.