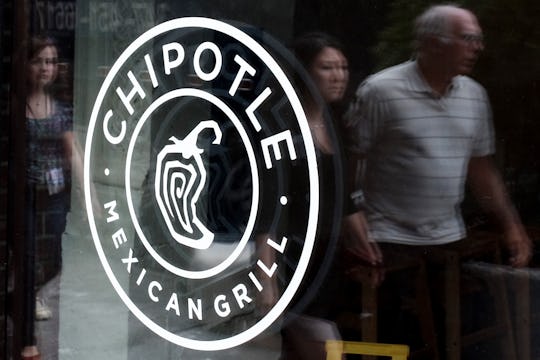 Kena Betancur./Getty Images
E. Coli Outbreak Linked To Chipotle Affects Dozens In Washington & Oregon States, & More Cases Are Expected
As news continues to spread this week about the E. coli outbreak linked to several Chipotle restaurants in Washington state and Oregon, health officials say that even more reports of illness are expected to crop up in the coming days. As of Friday, dozens of restaurant-goers had reportedly been affected — three were affected in Portland, Oregon specifically, while 19 became sick in areas across Washington state, according to CNN. Of the 22 who have contracted the illness so far, 17 of them allegedly dined at a Chipotle restaurant within the last few weeks. A subsequent investigation by the restaurant chain has led  to the closings of more than 43 Chipotle stores in both states, according to the outlet.
When Romper reached out for comment Monday, Chipotle's Communications Director Chris Arnold responded acknowledging the closures:
The safety and wellbeing of our customers is always our highest priority. After being notified by health department officials in the Seattle and Portland, Oregon areas that they were investigating approximately 20 cases of E. coli, including people who ate at six of our restaurants in those areas, we immediately closed all of our restaurants in the area out of an abundance of caution, even though the vast majority of these restaurants have no reported problems. We are working with health department officials to determine the cause of this issue. We offer our deepest sympathies to those who have been affected by this situation. 
While the restaurant is doing its best to investigate, Marisa D'Angeli, medical epidemiologist with the Washington State Department of Health, told CNN Monday that an increase in illness reports will likely come right away. "We actually would expect there might be a jump in cases on Monday," she said.
News of the outbreak swept Twitter this weekend, at almost the same time Chipotle was encouraging its customers to come into its stores wearing their Halloween costumes to receive a $3 burrito.
According to the Mayo Clinic, E. coli is a serious infection characterized by abdominal cramping, pain, or tenderness, as well as nausea and diarrhea. As for how it's contracted, the Center for Disease Control reports that infections essentially start "when you get tiny (usually invisible) amounts of human or animal feces in your mouth." Customers who have eaten at the restaurant at any time at all since mid-October and noticed any of the above intestinal symptoms are urged to immediately see a doctor. 
Images: