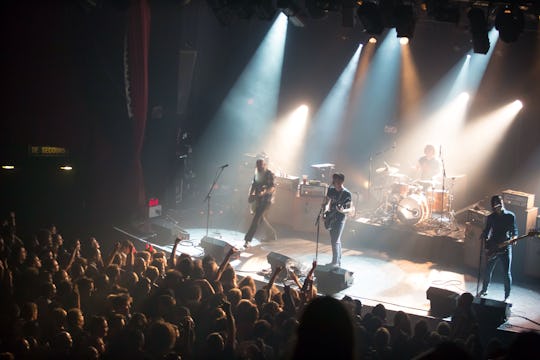 Marion Ruszniewski/Getty Images
Eagles Of Death Metal Release Touching Statement In The Wake Of The Paris Attacks
Wednesday morning, the American band Eagles of Death Metal released a heartfelt statement on the Paris attacks, which claimed the lives of 89 people attending their concert at Le Bataclan Nov. 13. The statement was posted to EODM's official Facebook page, where it begins by stating that all four members are "horrified and still trying to come to terms" with what happened last Friday.
Breaking their silence since they last posted to Facebook on Nov. 13, EODM wrote that their thoughts are with their merch manager, Nick Alexander, and their record label "comrades" Thomas Ayad (whom both the band Metallica and Justin Bieber wrote tributes to), Marie Mosser, and Manu Perez, and everyone else who lost their lives that night. Announcing all their shows are postponed until further notice, members Josh Homme and Jesse Hughes also wrote:
Although bonded in grief with the victims, the fans, the families, the citizens of Paris, and all those affected by terrorism, we are proud to stand together, with our new family, now united by a common goal of love and compassion. We would like to thank the French police, the FBI, the U.S. and French State Departments, and especially all those at ground zero with us who helped each other as best they could during this unimaginable ordeal, proving once again that love overshadows evil.
Though the band exited Le Bataclan, they are clearly concerned about countless audience members who were injured or lost their lives when assailants wielding guns and wearing suicide vests stormed into the venue. In light of this unthinkable act, EODM fans campaigned to get their cover of Duran Duran's 'Save a Prayer' up 52 spots to number 44 on the UK charts. Their band closed their statement with "Vive la musique, vive la liberté, vive la France, and vive EODM."
Image: Marion Ruszniewski/Getty Images