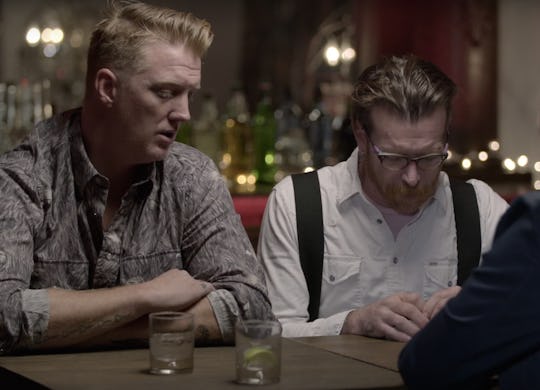 Eagles Of Death Metal Speak About Paris Attacks, & It Sounds Absolutely Horrifying — VIDEO
The American rock band Eagles of Death Metal speak about the Paris attacks in a video interview with Vice set to air next week, marking the first full account from the band since terror struck the concert hall where the band was performing. Band members sat down for an interview with Vice recently and offered an account of what happened when a gunman opened fire on fans at Le Bataclan on Friday, November 13. A preview released on Sunday gives viewers a glimpse of the band's account of the attacks, including this nightmarish memory from lead singer Jesse Hughes: "Several people hid in our dressing room," Hughes said, "and the killers were able to get in and killed everyone of them … except for a kid who was hiding under my leather jacket."
The Bataclan concert hall, where the band was performing that evening, was one of several sites around downtown Paris where gunman and suicide bombers staged a coordinated set of attacks that left at least 130 people dead and wounded 350 others. Among the 89 lives lost at Le Bataclan that night were the band's merchandise manager Nick Alexander, as well as three colleagues from their record label: Thomas Ayad, Marie Mosser, and Manu Perez.
The day after the attacks, the band posted a statement on its Facebook page expressing sorrow for the lives lost and appreciation for everyone who helped in the rescue operations. Rather than focusing on the horrors they witnessed that night, the band's initial statement called for greater compassion for and unity with everyone affected in the terror attacks: "Although bonded in grief with the victims, the fans, the families, the citizens of Paris, and all those affected by terrorism," the band said, "we are proud to stand together, with our new family, now united by a common goal of love and compassion."
The short clip made available Sunday from the Eagles of Death Metal interview with Vice interview is nothing short of heartbreaking. Clearly holding back tears, Hughes talked about why the violence at Le Bataclan claimed so many lives. "A great reason why so many were killed," he said, "is because so many people wouldn't leave their friends. So many people put themselves in front of people."
The full interview will premiere next week on Vice. A preview of the Eagles of Death Metal interview is available below.
Image: VICE/YouTube