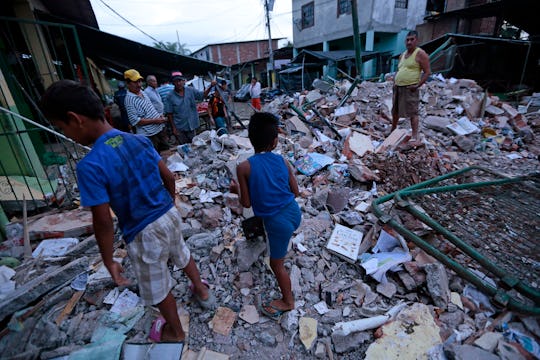 JUAN CEVALLOS/AFP/Getty Images
Earthquake In Ecuador Kills Hundreds & It's Not The Only Recent Tragedy
According to regional officials, at least 233 people were killed and approximately 600 more were injured when an earthquake struck Ecuador Saturday night. The damage caused by the 7.8 magnitude quake extended across the entire nation, with casualties expected to rise. The earthquake in Ecuador is the latest in a string of similar tragic disasters to hit the country, as well as other countries located along the seismically-active "Ring of Fire" in the Pacific basin.
The quake hit off the Pacific Coast, and devastated cities and towns on the country's northwestern coast, including the popular tourist destination Pedernales. But the earthquake's damage rippled even as far as Guayaquil, Ecuador's most populous city, over 300 miles away from the site where the quake initially struck. "It was terrifying, we were all scared and we're still out in the streets because we're worried about aftershocks," Guayaquil security guard Fernando Garcia told Reuters, after a bridge collapsed in the city.
The country's president, Rafael Correa, was traveling in Italy at the time the quake struck, but he cut short his visit to fly home, decreeing a state of emergency in the country. Ecuador's vice president, Jorge Glas, said in a televised address that the country was deploying 10,000 soldiers and 3,500 police officers to help those in affected areas, including citizens who are still trapped in the rubble. He also urged those who had evacuated coastal areas to return to their homes, as the country's tsunami alert had been lifted.
This is the seventh earthquake of magnitude 7 or higher to hit the area since 1990, although Saturday's disaster was the most devastating quake to hit Ecuador since one in 1987 killed approximately 1,000 people. But the country is not alone in its misfortune — in recent weeks, Japan was hit hard by two earthquakes, coming a mere two days apart, that killed a combined 41 people and injured nearly 1,000 more.
Both Ecuador and Japan are located along the "Ring of Fire," a seismically-active arc around the Pacific basin, so they are at a high risk for such natural disasters. As the BBC's science correspondent Jonathan Amos explains, "Ecuador fronts the boundary between the Nazca and South American tectonic plates... The Nazca plate, which makes up the Pacific Ocean floor in this region, is being pulled down... and under the South American coast." Unfortunately, that means that Saturday's earthquake likely will not be the last the region will have to face.
Thoughts and condolences go out to the citizens of Ecuador, as they recover from the damage and begin to rebuild.