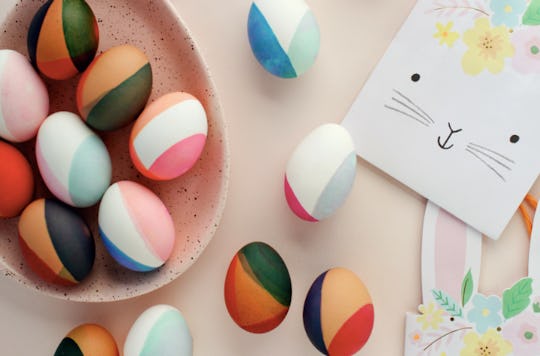 Courtesy Of Incredible Egg
These Super Modern, Easy-To-Make Color-Blocked Eggs Will *Make* Your Easter
For a seemingly simple craft, egg dying can be a bit tricky. I always seem to end up with food coloring everywhere and a busted egg or two. But now there's a simple way to create some truly beautiful eggs that are definitely Pinterest-worthy. These modern color-blocked Easter eggs are easy to create, and they'll dress up your springtime decor in a major way. They're a colorful and sophisticated take on the classic egg-dyeing tradition, and simple enough for the entire family to enjoy.
The creation of blogger Nole Garey from Oh So Beautiful Paper, the color-blocked eggs she made for Incredible Egg are deceptively simple to make. But the end result is gorgeous. I especially love how Garey used both white and brown eggs or this craft, because the brown eggs produced some truly beautiful, rich earthy tones.
To complete this craft, first you'll need to gather the supplies. Several hard-boiled eggs, food coloring, vinegar, muffin tins or small bowls, toothpicks, and paper towels are the main supplies. Of course, a few disposable gloves will keep the whole process from getting too messy, although messiness can definitely be part of the fun. Read on to find out just how simple it is to make these stunning, modern Easter eggs.