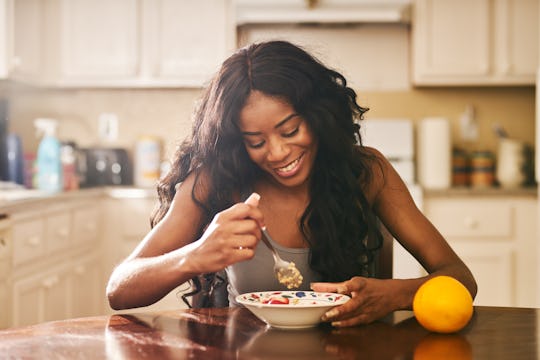 Fotolia/Joshua Resnick
'Eating For Two' During Pregnancy May Put Your Health At Risk, New Study Says, But Don't Panic
As if people don't already have enough to worry about during pregnancy, a lovely new characteristic involving extreme overeating may be more common during pregnancy than previously recognized. As it turns out, the "eating for two" during pregnancy may put your health at risk, as a new study found, but it's not time to panic just yet. There's still a lot that needs to be understood about the study, its findings, and the issue, and if eating too much during pregnancy is something you've dealt with yourself, you're certainly not alone.
In a study of over 11,000 women, published Tuesday in the American Journal of Clinical Nutrition, 36.3 percent of women reportedly experienced "loss of control" eating during pregnancy, according to Medical Xpress. That's easily a third of the women in the study, proving that if the problem is something you recall from being pregnant — or something you're dealing with now during pregnancy — you're not the only one, and it's actually much more common than you may realize.
Even the researchers involved likely didn't know beforehand just how common the issue is. This was "the first study to investigate loss of control eating during pregnancy and its effects on pregnancy, child birth-weight and long-term weight," according to Dr. Nadia Micali, of UCL Great Ormond Street Hospital Institute of Child Health and University of Geneva and University Hospital of Geneva, Switzerland and the lead researcher on the study, as reported by Medical Xpress.
"Loss of control" eating is defined by Medical Xpress as feeling out of control while eating, "irrespective of the amount consumed." And the study didn't just look into this more general eating habits concern — it also determined that 5.2 percent of the women in the study reported a more specific frequent loss of control while eating, and that those women gained, on average, 3.5 kilograms (or roughly 7.7 pounds) more during pregnancy than women who did not experience that loss of control.
Micali went on to say of the findings, according to the Daily Mail:
We found loss of control eating is common and despite having serious implications for mothers and children, it has received very little attention. ... Gestational weight gain not only puts children at a greater risk of being obese but is a predictor of later obesity in mothers.
And indeed, the study found that the children of women who experienced a loss of control eating issue during pregnancy were also twice as likely to be overweight by age 15 than kids of women whose eating was under control, according to The Times. Guess that's yet another thing to make moms feel guilty about.
To figure out whether there was any effect from this overeating on the next generation, the weight and height of 5,515 children was measured when they were 15 years old, according to the Daily Mail. The kids whose mothers experienced "out of control" eating were more likely to be not just overweight, but obese by that point.
Researchers looked at data from Children of the 90s, the Avon Longitudinal Study of Parents and Children (ALSPAC), for this study, according to Medical Xpress. According to the findings, 582 women self-reported frequent loss of control eating, while 3,466 women reported that they only experienced it occasionally.
The percent of women who more frequently felt that they couldn't stop eating even when they wanted to ate 120 calories more a day than those who never lost control, according to The Times. The women who experienced loss of control eating were also more likely to diet during pregnancy, and tended to be more dissatisfied with their body shape, the Daily Mail reported.
But if this sort of loss of control eating is something you've experienced or are experiencing during pregnancy, don't panic just yet. The researchers of the study concluded that there's "a need for improved identification of maternal pregnancy loss of control eating," and that further understanding of the condition is necessary. According to the The Times, Micali thinks that treatment such as cognitive behavioral therapy could help, explaining:
We often imagine that just telling women, "Don't eat for two, don't eat for two," is going to be enough. But loss of control needs to be treated slightly differently in a more psychologically acute way.
Even though the issue is common, a lot more work needs to be done to identify risk factors and to understand it. But this study is a great first step, and hopefully just the first of many similar studies and advancements to further improve the health and well-being of pregnant women and their children.