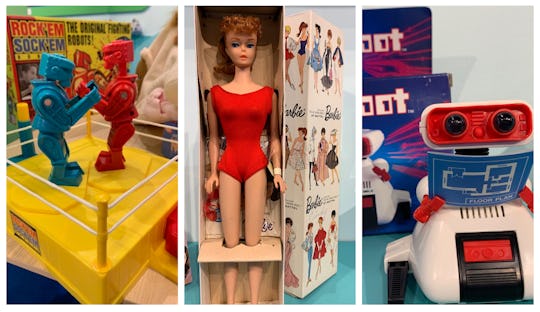 Romper
The Retro Toys That Will Take You Back To Childhood With A Pew-Pew This Holiday Season
I have always bought gifts based on what I would like. I don't know if this is a personality flaw or not. It's how my husband came to own a flattering photo of me printed onto a woodblock, and my dad came to own a feminist memoir by Caitlin Moran (sincerely meant). Having kids did nothing to cure me of my egocentrism. Now more than ever, I am having a blast purchasing things for my kids that I secretly want for myself. This trend toward self-obsession has not gone unnoticed! Companies like eBay are catering to parental nostalgia with retro toys you can buy online, sending you right back to the days when you had the same bowl haircut as Elliot from E.T.
To get a look at what parents are into, I strolled through "Toytopia," a popup experience run by eBay in New York's Chelsea Market through November 20, in which the hot new toys (Hatchimals, Pomsies, giant Fingerlings, et cetera) sat adjacent to some real throwbacks available online. Toytopia coincides with the launch of eBay's first ever holiday Toy Book, which includes tons of holiday gift picks, new and vintage alike (80% of all merchandise sold on eBay is new — mindblown). There were a LOT of Transformers at Toytopia, which sent me down a wormhole remembering how many cartoons I used to watch with my brother and sister back when parents didn't care about screen time (#tbt). Even though their arms are often ballistic weapons, these toys feel so wholesome, don't they?
There were also some vintage Barbies looking very Lucille Ball. When I was a kid, I got a bunch of second-hand Barbies from a family friend. She didn't have a Ken doll so she had cut off some of the dolls' hair and taken their clothes off: voila, a man. Sexism solved?
One of the other Barbies was perpetually in a white lace wedding dress, waiting for a groom who was never going to show up.
You can find a lot of old toys newly manufactured online — both my kids have a Care Bear (Bedtime Bear, if you must know) bought off Amazon, and they look old-school, as opposed to the newer renditions of the Care Bears with those weird faces — but they are usually reproductions of a character that has survived the intervening years. You need to go to eBay to find a Care Bear Cousin. Remember when the Care Bear universe was so big it randomly expanded to include jungle animals? I do.
Looking at all the old stuff online does not get old. I had both a Pound Puppy and a She-Ra, but they were taken to the tip about 30 years ago to be thrown onto the fires of Greyskull. Browsing the net, there's something especially amazing about a He-Man doll in 2018. Look at his neck. Look at his thighs, ready to burst like a pair of crescent rolls. And the slogan: "Most powerful man in the universe!"
Remember the good old days when the most powerful man in the universe stepped out in underpants, knee-high boots, and suspenders? It was a simpler time when masculinity was all about keeping your bangs short.
It's not a fandom, per se, but me and my siblings spent approx. five years of our lives each playing Mastermind on family vacations, and I did not realize how much I missed the pompous professor dude pressing fingertips into a church steeple until I beheld it anew on the web. Look how tired his knockoff Doctor Who female assistant is in her space-mini about upholding the myth that this bozo is smarter than her. Lol.
I don't remember this toy from childhood, but it reminds me of every time Paul Rudd went on Conan to promote a movie and instead rolled this clip from Mac & Me, which I once saw on a ski trip and have never forgotten.
But this isn't all about me. In contemporary culture, I saw a Paw Patrol fire truck, and a FurReal T-Rex I would like to bring home for my chillun. (T-Rex arms are the new baby shark, you heard it here first.) The event had a giant Lego wall for kids to play with, oversized crayons, a snowy booth you could take photos in — I realized it is a little about the kids, sure.
But surfing through my childhood taught me I pity the fool who doesn't succumb to a little nostalgia from time to time.
Editor's note: This post has been updated.