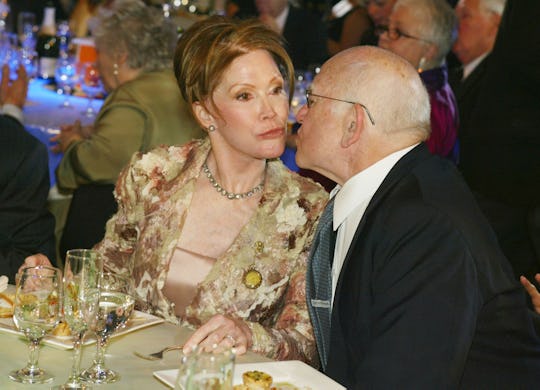 Kevin Winter/Getty Images Entertainment/Getty Images
Ed Asner's Heartfelt Message For Mary Tyler Moore
As if you didn't need another reason to pour one out, Ed Asner's reaction to Mary Tyler Moore's death on Wednesday paid heartbreaking tribute to the television icon. Asner famously worked with Moore on the legendary Mary Tyler Moore Show and issued an official reaction statement to the tragic news this week via Twitter. "#MaryTylerMoore, my heart goes out to you and your family," Asner wrote. "Know that I love you and believe in your strength."
Moore died of complications from pneumonia on Wednesday at 80 years old. She came into fame on The Dick Van Dyke Show but eventually became the star of her own comedy, The Mary Tyler Moore Show. She won three Emmys for her eponymous role, though she was nominated for many others. Asner was nominated for, and won, almost just as many for playing Lou Grant, Moore's cranky boss in the show.
His fame was closely attached to hers, which is a pretty big deal when you think about how backwards network television really was back in the day. On The Mary Tyler Moore Show, Moore played Mary Richards, a woman trying to "make it after all" in the media business even though she was, well, a woman in the late '70s. But she was also smart, funny, happy, and single. Moore's role on television, and the themes her show tackled, were a certain kind of feminism for the time.
Asner has said himself that Moore had an influence on his ideas about gender when it came to playing her boss on TV. Although there were times that the show didn't go far enough, but not because the actors didn't want to, Asner told The Washington Post:
I'm thinking of [a storyline] when she came in, and I had promoted her to a new position, and she says, 'Well, that's wonderful, but why am I getting this much and he got that much?' And I very patronizingly explained to her that he was married and he had a couple of kids and blah blah blah and that's why he got what he did.
He added, "I think it made the impression to the audience, he made the point with the audience, but it did not get resolved on the show."
The show never did hammer down just why Mary Richards had so much to fight for in her quest to "make it," so critique the show at will. But if it wasn't for Asner and Moore, it's likely that American audiences would never have seen Tina Fey and Alec Baldwin in 30 Rock. If you love that NBC sitcom, you might have some major binge-watching to do this week to get up on how important Moore and her relationship with Asner was on primetime television in the days before it was taken for granted that a very smart woman could hilariously go head-to-head with her male boss.
Moore and Asner, of course, weren't perfect. But in real life, they taught us all more than a few very important lessons in both friendship and social progress.