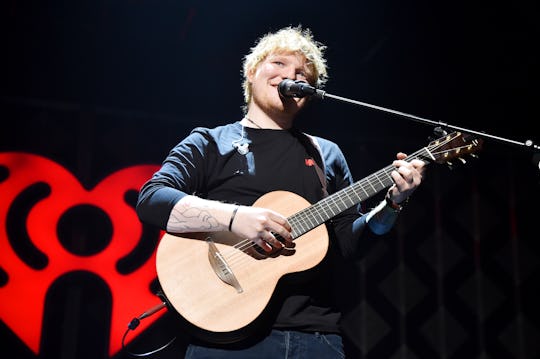 Theo Wargo/Getty Images Entertainment/Getty Images
Ed Sheeran Won A Grammy Against All Women, & Twitter Is Pissed
Music's biggest night finally arrived! It was the 2018 Grammy Awards and this year was filled with a number of incredible nominees in each category. One award many people had their eye on this year was for Best Pop Solo Performance. This year the category was filled with women; Ed Sheeran was the only man nominated for "Shape of You." Thus it's not surprising that many fans were shocked, even angered, when it was Sheeran who won the Grammy against all women.
The competition for this year's Best Pop Solo Performance was definitely fierce, but with the odds stacked against Sheeran, many didn't expect him to come out on top. The chart topping "Shape of You" was up against "Praying" by Kesha, "Love So Soft" by Kelly Clarkson, "Million Reasons" by Lady Gaga, and "What About Us" by Pink.
While many are outraged Sheeran won against the four women in general, some were particularly upset that Kesha didn't win. "Praying" marked Kesha's return to music following her heartbreaking court battle with producer Dr. Luke. The popular single, which Kesha also performed at the Grammys tonight, was a hit and many were excited that she wasn't only nominated for the song, but for her latest album, Rainbow, as well for Best Pop Vocal Album. These two nominations were also Kesha's firsts, so fans were particularly excited about it and equally devastated when she didn't win.
Many people also remarked that Gaga's "Million Reasons" was also a powerful and inspirational song that deserved to win over "Shape of You." And others said that Pink's single, which many feel deals with the political divides in the U.S. right now, was more deserving. Basically, the general consensus for the most part seems to be that any of the other nominees would've been a better choice over Sheeran. It also didn't help that Sheeran wasn't even at the award ceremony to accept his award.
Despite the backlash, it's hard to say "Shape of You" wasn't the biggest pop song of the last year. The song dominated the charts last year and even broke the record for most weeks in the Billboard Hot 100's Top 10. The must video got over three billion views and it was song hard everywhere all the time. Still, does the popularity of the song mean it should've won? Obviously, most people don't think so, but when it comes to the Recording Academy it's hard to really know how they'll end up voting. In this case, most people at home weren't satisfied.
Regardless of the loss, each and every one of the women in this category were deserving. They all released incredible music that did what the best songs do: make people feel something. Whether the songs were uplifting or just catchy, there's a reason why all of those songs received a nomination, and why many were quick to voice their opinion about who should've won.
Even though none of the women won the Grammy this time, it's still an incredible feat that this category was dominated by the ladies. It just goes to show that women are making big strides in the industry, producing music is starting to get the recognition it deserves. Kesha, Pink, Clarkson, and Gaga's nominations all took a great step forward in setting the groundwork for a woman to win next year. This is only just the beginning. For now the best thing fans can do to support these ladies is to keep listening to their incredible music.
Check out Romper's new video series, Romper's Doula Diaries:
Watch full episodes of Romper's Doula Diaries on Facebook Watch.