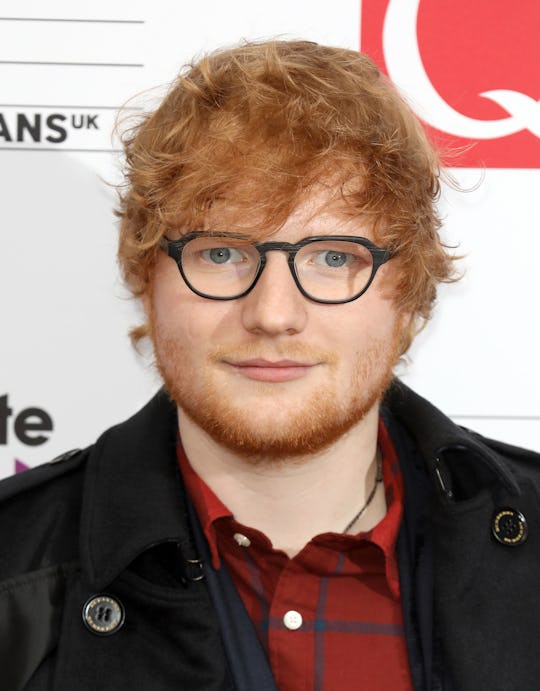 Tim P. Whitby/Getty Images Entertainment/Getty Images
Ed Sheeran Was Snubbed In The 2017 Grammys For 'Divide' & Fans Are Pissed
The Grammy nominations were offiicially announced this morning, and one star in particular was noticeably missing. Although it was expected that Ed Sheeran's multi-million selling album, Divide would show up in the main categories for the 2018 Grammy Awards, it appears this is not the case. Instead, the British singer was dominated by stars like Bruno Mars, Kendrick Lamar and JAY-Z. And Ed Sheeran's Grammys snub for Divide has made fans super unhappy.
Billboard reported that JAY-Z received a whopping eight nominations, including album of the year (for 4:44), record of the year (for "The Story of O.J.") and song of the year (for "4:44"). In second and third, nomination-wise, is Kendrick Lamar with seven and Bruno Mars with seven. Like JAY-Z, Bruno Mars snagged multiple spots in the main categories. For Mars, it was 24K Magic for album of the year, the album's title song for record of the year and "That's What I Like" for song of the year.
Technically, Sheeran wasn't completely shut out of the awards ceremony. Entertainment Weekly reported the singer was nominated for best pop solo performance for "Shape of You" and best pop vocal album for Divide. But still. With the immense popularity of both "Shape of You" and "Castle on the Hill," many had assumed Sheeran would land at least one of the major categories, according to BBC. Indignant fans took to Twitter to express their frustration. "And did ed sheeran also get no nomination for that masterpiece of an album? I'm throwing a fist!" one Twitter user wrote.
Another tweeted, "Absolute stunner that Ed Sheeran didn't get nominated for Record, Song OR Album of the Year."
"You're telling me Ed Sheeran isn't nominated for AOTY?!?" another indignant fan lamented.
"Tbh I'm more surprised that Ed Sheeran didn't receive nominations for Album, Record OR Song of the year," yet another fan wrote on Twitter. "Divide is the best selling album for 2017 and Shape of You and Castle on the Hill were HUGE. If anyone is sadder than us right now, it's Ed. He probably expected WAY more." I'd have to agree that Sheeran is probably way, way more disappointed than all of us right now.
Still there were also plenty of Twitter users rejoicing at the fact that Sheeran was snubbed from album, record, and song of the year categories. "Also so so happy for @lorde's Album Of The Year nomination and @iamcardib's Best Rap Song nomination," one person tweeted. "Such deserving artists being honoured this year ... Best of all Ed Sheeran misses on on the three big awards." Oh, burn. The photo of Miley Cyrus smoking a giant cigar is the perfect touch on this diss.
"I would like to personally thank The Recording Academy for not nominating Ed Sheeran for Album, Record, or Song of the Year," another person snarked.
"ED SHEERAN WAS SHUT OUT OF RECORD AND ALBUM OF THE YEAR," one particularly grateful music lover exclaimed, along with a GIF of Mariah Carey pompously smiling and waving.
Another obvious non-fan of Sheeran took it a step further; she was upset Sheeran received any Grammy nominations at all. "Harry styles, lorde, halsey, dua lipa and so many more shook the music industry this year," she wrote. "But yeah let's give ed sheeran another award for singing songs that all sound the same." Ouch. This one is particularly brutal because, well, it's kinda true. And this is coming from someone who enjoys most of Sheeran's songs.
Honestly, I'm just as surprised as the rest of the world about Ed Sheeran's lack of domination in the Grammy nominations. But that's probably because I listen to zero music from the rap and hip-hop genres — and because I get a steady dose of Sheeran's songs via various Kidz Bop albums my children adore. (I swear, we listened to "Castle on the Hill" nonstop for weeks this past summer.) Here's to hoping Ed will take this snub as inspiration to push his own musical boundaries in the next year. But if he opts to sit at home today in his pajamas with a tear-streaked face and cradling a gallon of ice cream, there's no judgement here.
Check out Romper's new video series, Romper's Doula Diaries:
Watch full episodes of Romper's Doula Diaries on Facebook Watch.