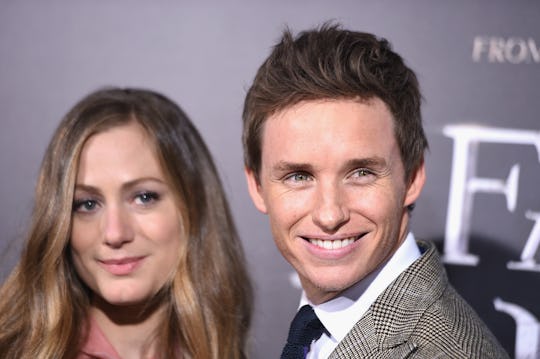 Michael Loccisano/Getty Images Entertainment/Getty Images
Eddie Redmayne & Wife Hannah Welcome Baby No. 2 & Announced The News In The *Sweetest* Way
Giving birth and welcoming a child into the world is a major thing to happen in someone's life. So, it shouldn't come as a surprise when people want to tell everyone and shout it from the rooftops. But some people take a more subdued approach, like Eddie Redmayne and wife Hannah, who welcomed their second child last week and took a super subtle but totally adorable approach to announcing their new baby's birth.
Redmayne and Hannah Bagshawe welcomed their second child on Saturday, March 10 — a son named Luke Richard Bagshawe. Instead of taking to social media or releasing some grand statement to the world, Redmayne and Bagshawe chose to announce their baby's birth in the weekend edition of The Times, a London-based newspaper, according to the Daily Mail.
If you got your hands on a copy of The Times where this announcement was printed, you might not even know that Redmayne is an Academy Award winning actor or that this was the couple's first time announcing Luke's birth. This is because the announcement read, according to Harper's Bazaar: "On 10th March 2018 to Hannah (Bagshawe) and Edward, a son, Luke Richard Bagshawe, brother to Iris." How cute is that?
This subdued way of announcing their son's birth has become a bit of a family tradition — they announced their daughter's birth this way, too. In June 2016, when Redmayne and Bagshawe welcomed their first child, a daughter named Iris Mary, into the world, they took to the birth announcements issue of The Times, first, where they let everyone know their daughter had been born. Redmayne and Bagshawe engagement in 2014 was also announced similarly in a copy of The Times, according to International Business Times. Out of all the family traditions you could have, this one is super sweet. These physical announcements are tangible things that their children can hold on to and pass down to their own kids, and in an ever-evolving digital landscape, being able to have something like this (in addition to a digital copy) is pretty cool.
Luke's birth might come as a surprise to quite a few people, especially since Redmayne and Bagshawe are pretty private people and their announcement that they were expecting a second child might have flown under the radar. In November, a representative for Redmayne confirmed to People that they were expecting their second child. And in February, during an appearance on Live! With Kelly and Ryan, he finally shared some details about his wife's pregnancy. For example, Redmayne told the show's hosts that he and his wife were waiting to find out the sex of their second baby. The new dad said, according to People:
We don't know [what we're having] — we're not going to find out. Last time we didn't know, either, and we did that thing where there was basically only one name for each sex that we agreed on. So if it's a boy, we have a name, [but] if it's a girl, we're still negotiating.
In the same interview, according to People, Redmayne joked about his fears of not being able to get enough sleep in the upcoming months and was "getting prepped to go back into the trenches" of having a newborn. Sure, having a newborn baby can be exhausting at times — there is a lot of missed sleep and dirty diapers for parents to deal with. But being a parent to a newborn is super rewarding. In 2016, he called fatherhood "utterly extraordinary," according to Hello! Magazine, so it is obvious that he is more than ready to handle another newborn in the house.
Check out Romper's new video series, Bearing The Motherload, where disagreeing parents from different sides of an issue sit down with a mediator and talk about how to support (and not judge) each other's parenting perspectives. New episodes air Mondays on Facebook.