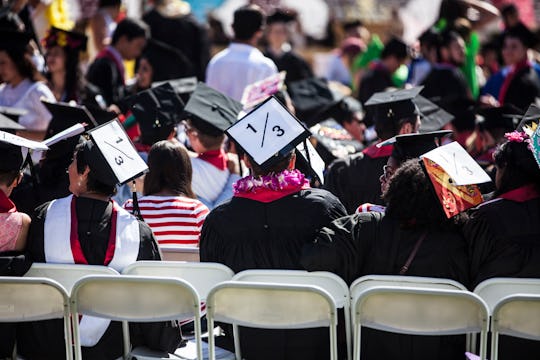 Ramin Talaie/Getty Images News/Getty Images
This Education Official Made An Appalling Comment About Rape
Unfortunately, despite the progress that's been made in recent decades, sexual assault is still a controversial issue. While institutions such as universities and colleges report staggering numbers of rape cases, the problem seems to persist due to relative inaction or dismissal of victim narratives; Simply put, there are still a lot of people who refuse to believe their stories. And now, one of Education Secretary Betsy DeVos' departmental appointees has joined in on that conversation in the worst way possible. Yep, an education department official just said the most appalling thing about campus rape, and if you're not immediately troubled by it, you might want to take a step back and reevaluate.
Candice Jackson, head of the civil rights division at the Education Department, spoke to The New York Times on Wednesday, discussing her thoughts on campus rape policies — specifically, that the rights of accused rapists aren't taken seriously enough. More so, Jackson seemed to dismiss a large chunk of sexual assault accusations largely based on the fact that one or more of the people involved were drinking. She told The New York Times,
Rather, the accusations — 90 percent of them — fall into the category of "we were both drunk," "we broke up, and six months later I found myself under a Title IX investigation because she just decided that our last sleeping together was not quite right."
Romper has reached out to the Department of Education for a comment on these statements and is awaiting a response.
But that's not all Jackson had to say. On top of homogenizing all rape accusations as being nothing more than a drunken hook up, she also determined that there's usually "not even an accusation that these accused students overrode the will of a young woman," per The New York Times.
Jackson's position at the Department of Education is traditionally a role that works with schools and universities on sexual assault cases. As BuzzFeed reported, "The Office for Civil Rights is the primary federal agency that investigates K-12 schools and colleges for mishandling sexual assault cases. During the Obama administration, it drew attention to racial disparities in school discipline." However, Jackson has made it abundantly clear that her role in the administration will handle campus rape somewhat differently than the Obama administration did.
While President Obama and Vice President Joe Biden worked to end college sexual assault, with Biden even launching the "It's On Us" movement (an advocacy movement meant to curb the stigma of speaking out about assault), Jackson's philosophy focuses more on the accused. More so, Jackson's comments that "90 percent" of accusations aren't substantial are themselves purely offensive.
However, they aren't exactly surprising. Jackson is well-known for representing the women who accused former President Bill Clinton of rape, while also calling Trump's accusers "fake victims." In her 2005 book, Their Lives: The Women Targeted by the Clinton Machine, Jackson announced that she was a sexual assault survivor, while also criticizing liberals for supporting equal rights. Per BuzzFeed, Jackson wrote that "liberals place much emphasis on helping racial minority groups and women."
She also gave some troubling insight into her views on sexual harassment laws at the time, saying that they forced men to "self-censor themselves to avoid being accused of sexual harassment."
In short, Jackson is teetering dangerously near the line of becoming a rape apologist, whether she realizes it or not. Her new position of authority makes that doubly concerning.