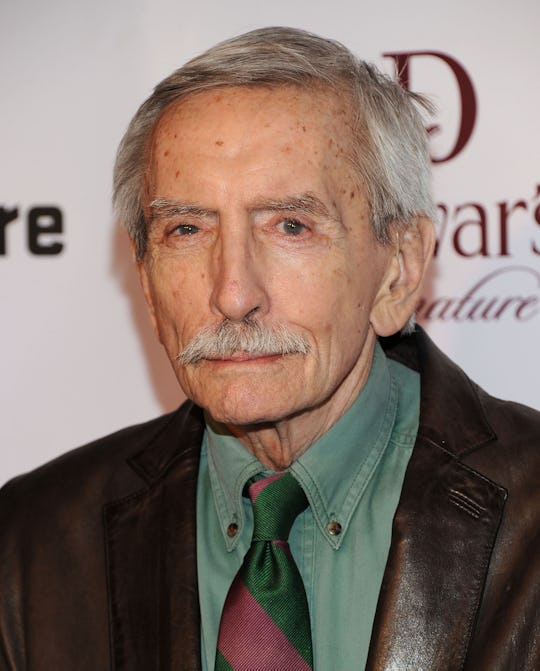 Jason Kempin/Getty Images Entertainment/Getty Images
Edward Albee, Playwright, Dies At 88
This year, the world has mourned the losses of some of the greatest people who were masters at their respective crafts — from boxer Muhammad Ali to musician David Bowie. There is nothing more sad than seeing these respected and admired geniuses, who were some of the best among their kind, leave the world. And unfortunately, 2016 has claimed another one of these beautiful lives. On Friday, Edward Albee, a playwright, died at 88-years-old, according to The New York Times.
According to The New York Times, Albee's assistant, Jakob Holder, confirmed Albee's death to the newspaper. Albee reportedly died after a "short illness." For those unfamiliar with Albee's name, they've probably heard the titles of Albee's work, at least once in their lives — Albee authored many notable plays, studied in classrooms all over the world. Works such as Who's Afraid of Virginia Woolf and The Zoo Story can all be attributed to Albee, who introduced his first play in 1959 and debuted on Broadway in 1962. Albee was "widely considered as the foremost American playwright of his generation," according to The New York Times. According to Playbill, Albee's extensive line of work fell under the category of "bitingly funny and scabrously caustic." Albee seemed to have such an electric spirit. According to CBS News, Albee lived by one rule: "'Yes' is better than 'no.' In all things."
It was this words spoken about Albee, along with his smash debut onto Broadway that earned him two Tony Awards, one for Who's Afraid of Virginia Woolf? in the '60's and three Pulitzer Prizes for his different plays, according to Playbill. But not only did Albee's work allow him to win some of the biggest awards for a playwright and inspire dozens of college and high school classes to study his work — Albee's work inspired a huge movie. The movie adaption of Who's Afraid of Virginia Woolf in 1966 starred one of the "most famous couples in the world" at the time, Richard Burton and Elizabeth Taylor. Warner Brothers reportedly paid Albee $500,000 for the rights to produce the film, which was an unheard of amount of money at the time, according to Turner Classic Movies. The movie received 13 Academy Award nominations.
"A playwright or any creative artist is his work," Albee told The Telegraph in 2011. "The work is the essence of the person." This could not be more true for Albee, who wrote plays well into his 70's and continued to win awards into the 2000's. Albee was known for his work, he was loved for his work, and he was rewarded with top honors for his work. It is because of this that his work will be immortalized on the page, screen, and stage forever.