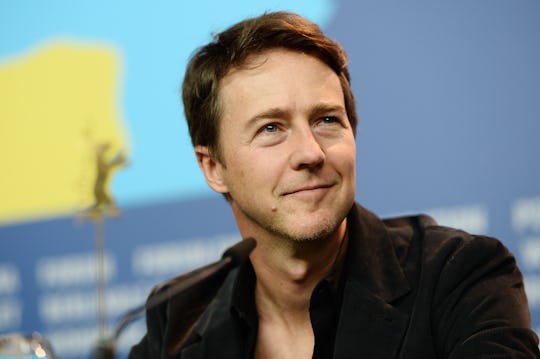 Edward Norton Raised $390K For Syrian Family, Showing The Good We Can Do When We Come Together
With all of the heartbreaking, scary stories in the news lately, and with an ongoing election campaign full of concerns about refugees and national security, it's easy to feel down about the state of the world. But if you could use a little hope, you probably need to hear about this latest online fundraiser. After a story about an un-named, Michigan-bound Syrian refugee featured in Humans Of New York went viral — even President Obama commented — actor Edward Norton began raising money for the Syrian family, including the man and his two children, who lost everything after a government-led bombing killed his wife, their daughter, and five other family members.
An accomplished scientist in Syria before the attack, the man now lives in Turkey. But he is unable to work legally, is struggling to support his family, and is also suffering from cancer, which is going untreated. In the seven-part feature on the HONY Facebook page, the man spoke about his goals to continue his scientific work in the United States and to begin contributing to the world again the way he used to be able to do before he had to leave his home country. Norton's Crowdrise fundraising effort – The Scientist, as he's called it, has currently raised over $390,000. All of the funds raised will be going towards medical treatment and resettling costs for the family, with any leftover money used to help other Syrian refugee families that were also featured in HONY.
Explaining that the story "moved [him] to tears," Norton wrote on Crowdrise of the importance of moving beyond political rhetoric to help people in need who are just looking for a safe place to call home:
"If we don't welcome people like this into our communities and empower his dream of making an impact with his life, then we're not the country we tell ourselves we are. Let's reject the 'anti-human' voices that tell us to fear refugees and show this man and his family what Americans are really made of. Let's show that a country built by the energy and dreams of immigrants still believes in brave people who come here with hope for better life."
He also encouraged others to donate, reminding us all of the real change that can happen when we work together to help one another:
"If enough of us kick in the price of two frappucinos, we can probably transform the experience of this family and show them that life can deliver healing and kindness, not just heartbreak."
According to the New York Daily News, Norton himself also donated $1,000 to the fundraising effort.
Although we don't know anything more about the refugee and his family, or when they'll be coming to the United States, the kindness and generosity being sent their way is encouraging. And, perhaps most importantly, it's a reminder that there are so many people out there who care and who believe in helping and raising up others, no matter how bleak circumstances can seem sometimes. The only downside is remembering that The Scientist is but one of an almost-infinite number of Syrian families in need of safety and support. But as Norton's amazing campaign is showing us, every little bit counts, and even the smallest of gestures can make a big difference.
Image: Ian Gavan/Getty Images Entertainment