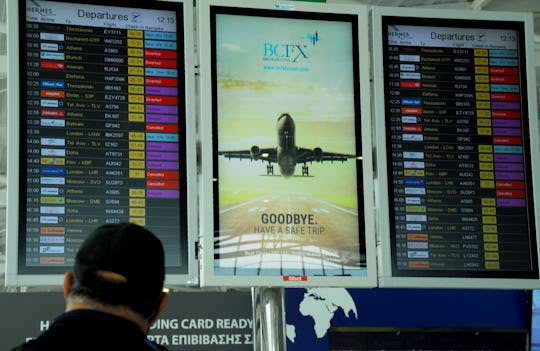 EMILY IRVING-SWIFT/AFP/Getty Images
EgyptAir MS804's Route From Paris To Cairo Offers Clues About The Plane's Final Moments
Just thirty minutes before it was scheduled to land at Cairo Airport late Wednesday night, an EgyptAir commercial liner carrying 56 passengers and 10 crew members disappeared off radar tracking systems over the Mediterranean Sea. EgyptAir Flight 804 left Paris's Charles de Gaulle airport at 11:09 p.m. local time and was due to arrive in the Egyptian capital at 3:15 a.m. on Thursday morning, according to BBC News reports. Investigators are now looking along EgyptAir MS804's route from Paris to Cairo for clues about what happened in the final moments before air traffic control reportedly lost contact with the jetliner over Greek airspace.
BBC News was able to confirm with an EgyptAir official that Flight 804 had reached a cruising altitude of 37,000 feet in what aviation officials called an otherwise "normal" flight. Air traffic controllers had completed several uneventful check-ins with the pilot, according to that report, before losing contact with the plane during the transition from Greek to Egyptian airspace. According to Greece's defense minister, who spoke at a televised press conference early Thursday morning, it was after that lull in communication that the EgyptAir flight "swerved and plunged" before starting a sharp descent toward the Mediterranean and vanishing from radar tracking systems.
A massive search and rescue mission has been coordinated between the Greek and Egyptian military to search for survivors and clues in the vicinity surrounding the plane's last known whereabouts, according to a CNN report. Greek officials confirmed that rescue teams had discovered several floating objects in the sea just southwest of Crete, which officials said could have been debris from the downed flight. So far, no survivors have been located.
While investigators look into whether the objects can be linked to the missing plane, authorities are scrambling to connect the dots between the flight's last moments and possible causes for the plane's sharp descent and disappearance. That same CNN report quoted Egypt's civil aviation minister as saying that the cause of the flight's disappearance was "more likely to be terrorism than a technical issue."
As authorities "keep an open mind" about possible causes for Flight 804's disappearance, aviation and intelligence officials are also investigating possible security breaches along the winding route the EgyptAir jet took over the last 24 hours, including stops in Tunisia and Eritrea in Northern Africa.
According to a live CNN broadcast, intelligence officials are checking flight manifests from the plane's last 24 hours against international terrorism watch lists to see if any passenger or crew names appear. Intelligence authorities are focusing attention in particular on possible security holes at Charles de Gaulle airport, where some 70 employees had their security clearances revoked last year for suspected terrorist connections. So far, no terrorist groups have come forward to claim responsibility for the crash.