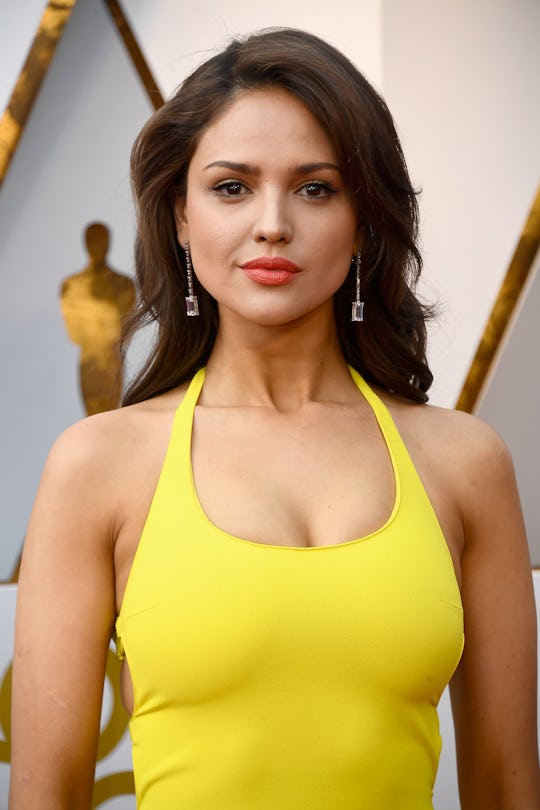 Frazer Harrison/Getty Images Entertainment/Getty Images
Eiza Gonzalez's Comment To Ryan Seacrest Instantly Caught Twitter's Attention
Hollywood's biggest night has arrived, and as usual all eyes were on the Oscars red carpet as nominees past and present, as well as countless other stars, arrived to pose for cameras and chat with TV hosts. Baby Driver star Eiza Gonzalez turned heads in yellow Ralph Lauren, but her glam look wasn't the only thing that had social media talking — it turns out that Eiza Gonzalez' comment to Ryan Seacrest instantly caught Twitter's attention for possibly being some low-key shade.
Gonzalez made the media interview rounds on the red carpet, and stopped to chat with the television host, who had recently come under fire for allegations of sexual misconduct (in a statement to E! News, Seacrest denied any wrongdoing, and a recent investigation by the network found that there was "insufficient evidence to support the claims"). In all fairness, their chat did seem pretty run-of-the-mill: the Mexican actress and singer spoke to Seacrest about the unique way in which Baby Driver was edited (Gonzalez explained to Seacrest that the film was actually edited on set, "because everything is linked to the music," according to E! News), and the two also spoke about her upcoming project with Steve Carell. But at the end of the interview, Twitter users couldn't help but notice that Gonzalez had a very, um, specific send-off for Seacrest: "be good."
Though it is of course possible that the comment wasn't meant to have anything to do with the allegations — or over the debate about whether or not Seacrest should have even been included in this year's Oscar coverage — many on social media couldn't help but think that Gonzalez was intentionally taking a dig at the host. And, well, it sounds like they were absolutely here for it:
Gonzalez certainly wasn't the only celeb who appeared to take a swipe at Seacrest though. While it seems that some stars just straight up avoided speaking to him all together, actress Taraji P. Henson did stop to chat with the host — and it didn't exactly look like she was trying to hide her opinion of him. Though Henson was technically discussing Oscar nominee Mary J. Blige, her words definitely appeared to have a double meaning when she looked at Seacrest and said, "You know what? The universe has a way of taking care of the good people." Henson then smiled at Seacrest, touched his chin, and said, "you know what I mean?"
For the most part though, Seacrest wasn't left entirely hanging, and the red carpet interviews he did have seemed very civil. One likely reason why? According to Entertainment Weekly, Seacrest appeared to make an effort to keep his questions focused almost entirely on the actresses' projects and work accomplishments, veering away from anything personal, or anything that may have been seen as even slightly unprofessional. And despite the controversy, Seacrest did have some supporters: Kelly Ripa, his morning show co-host, praised him for a red carpet job well done, while comedian and actress Tiffany Haddish told Seacret she was "proud of him."
One person who seemed to have made a conscious decision to keep away from Seacrest though is actress Jennifer Lawrence. In a recent interview with Howard Stern, Best Actress presenter Lawrence said she hadn't decided if she'd be open to speaking to Ryan Seacrest on the Oscars red carpet in light of the sexual misconduct allegations he's facing, according to Us Weekly. And while she didn't comment further ahead of the event itself, the fact that she didn't end up speaking with Seacrest seemed like she was sending a pretty clear message about where she stood on the matter.
In other words, whether she intended to or not, Eiza Gonzalez not only ended up owning the red carpet for her beauty, but also for the fact that she didn't seem at all afraid to throw some shade Seacrest's way. And at a time when the harassment and inequality women face on a daily basis seems more obvious than perhaps ever before? It's easy to see why Twitter was loving it.
Check out Romper's new video series, Romper's Doula Diaries:
Watch full episodes of Romper's Doula Diaries on Facebook Watch.