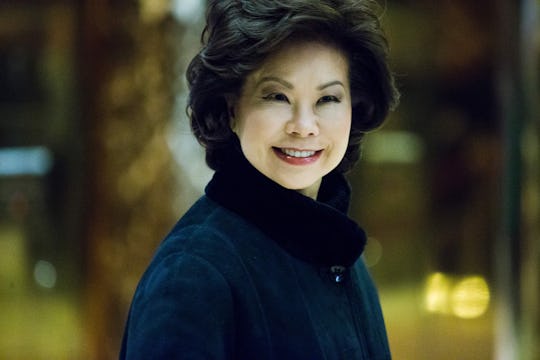 EDUARDO MUNOZ ALVAREZ/AFP/Getty Images
Elaine Chao's Connections To The Senate Have Some Fearing Conflicts Of Interest
According to CNN, former labor secretary Elaine Chao will be announced as President-elect Donald Trump's pick for transportation secretary on Tuesday afternoon. Chao has already filled two Cabinet positions in the past under two different administrations, making her one of the most qualified picks for the role. However, some people have noticed Chao's connections to the Senate, and several are wondering whether they could be problematic.
Connections aside, Chao comes from an accomplished political background. She was the only Cabinet member to remain in her role for all eight years of George W. Bush's administration, where she served as labor secretary, and she worked as deputy secretary of transportation during George H.W. Bush's presidency. She was the first Asian-American woman to fill a Cabinet position, and according to The Wall Street Journal, she has worked with several large think tanks, corporations, and non-profits.
The one area that's been seen as problematic when it comes to Chao is, surprisingly, her marriage: her husband is Senate Majority Leader Mitch McConnell from Kentucky. The Senate must approve Trump's Cabinet picks, but even without Chao's connection to McConnell, she would likely be approved in a Republican majority Senate. But that wouldn't be Chao's sole interaction with the Senate, if she did indeed fill the role.
According to CNN, as transportation secretary, Chao would be tasked with getting a Trump-backed infrastructure spending bill approved by Congress. As head and spokesperson of a Republican majority in the Senate, McConnell would likely be involved in those proceedings as well. However, would that necessarily create a conflict of interest?
Not really, according to Vox, and the Senate connection shouldn't be too worrisome. What Chao's selection has actually done, though, is show that Trump is intent on a partisan Cabinet. In the past, president-elects have now and again selected transportation secretaries from opposing parties (since, unlike issues of healthcare or immigration, the party lines on transportation don't seem to differ too wildly). But by adding a Republican transportation secretary to his administration, Trump is proving that he'll ensure a partisan Cabinet, likely making it easier for his future policies to be approved.
Other than that, however, Chao is being lauded as one of Trump's most qualified Cabinet picks. Her policies may be conservative, in line with the rest of Trump's Cabinet choices, but she has decades of experience in politics and years of experience in transportation. If she does indeed snag the position, she would be joining four other women in Trump's Cabinet.