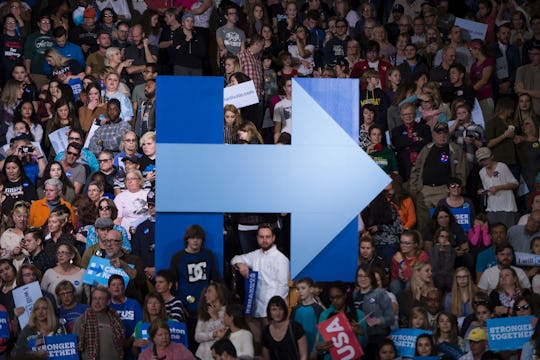 BRENDAN SMIALOWSKI/AFP/Getty Images
Election Night Memes To Share On Facebook & Everywhere Else
Election night is here. Many among us are suffering from various stress-related ailments. What's needed, above all else, is distraction — and what are memes if not shareable little nuggets of distraction? With that in mind, here are some election night memes to share on Facebook, all as part of a frankly philanthropic effort to keep your friends, family, and followers distracted, just like you.
During the past year, election memes have ranged from downright hilarious to disgustingly mean. Unfortunately, many election memes spread harmful falsehoods. A recent BuzzFeed News analysis found that 38 percent of the information posted at three of the most popular right-wing Facebook pages was false or misleading. This information usually comes in the form of quickly digestible memes. The same analysis found that three large left-wing Facebook pages had false or misleading information in 20 percent of the posts.
Let's focus, then, on memes that are true. For the sake of lifting one's mood, it's best to begin with this amazing, inspirational video released by Democratic presidential nominee Hillary Clinton's campaign in the days leading up to the election. The brilliantly-edited video splices together a panoply of Hillary images paired with some of Clinton's most moving words ever. Watch it, but grab some Kleenex first.
(Pivoting from inspirational to super meta, incidentally one can even find election night memes that are about election night memes.)
Over on Twitter, many users were voicing their concerns or supporting their candidate with eleventh hour #ElectionFinalThoughts, including a Tweet that yet again linked Republican nominee Donald Trump's ascendancy to Hitler's ascendancy in pre-World War II Germany.
The rest of Twitter was evenly divided between angry-tweeting, being upset or excited about Trump, or just generally posting about their overall exhaustion with the circus that has been the 2016 election:
Others were still fairly obsessed with the now-infamous Trump victory cake, which was reportedly denied entry to Trump's New York City Election Night party. Local reporter Katherine Lam shared a memorable video of the rejected Trump cake as it was rolled away by security.
While others still were managing to elicit laughs by going for the totally and utterly random, such as this meme comparing Trump's haircut to an ear of corn.
And at one point during the night, when The New York Times forecast showed an extraordinarily close race, one tweeter came through with one of history's all-time best below the belt jokes:
All told, it's fairly undeniable that the best Election Night "meme" (while it wasn't really a "meme," per se) were the #PantsuitNation posts. Women across the country wore pantsuits while voting, then posted photos to communicate their pride and excitement at voting for a woman president.
The idea to wear white on Election Day is a nod to the women suffragists of the early nineteenth century who finally earned women the right to vote in 1920. According to an article about the movement in Business Insider, women in the Women's Social and Political Union wore white, and the color later became a symbol for the suffragist movement. This was why Clinton wore white both at the third presidential debate, and on the last night of the Democratic National Convention, when she accepted the Democratic Party's nomination.
Many women dressed their entire families in white for election day, as evidenced by this amazing photo of Crystal Sacca, who is married to ABC's Shark Tank guest star Chris Sacca.
Wearing white to vote wasn't just for the ladies, either. Here's a photo of former The Daily Show producer Baratunde Thurston showing his support:
All told, election night memes and viral trends are a great way to get excited for what might prove be a memorable night in history, AND in herstory.