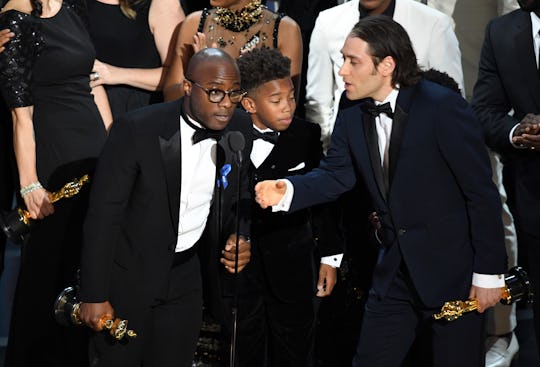 Kevin Winter/Getty Images Entertainment/Getty Images
Election Tweets About The Best Picture Mixup
In a truly awful mistake that no amount of shrugging "it's live TV, folks!" will undo, the best picture winner at the 2017 Oscars was announced incorrectly by presenters Warren Beatty and Faye Dunaway. After reading the wrong envelope card, they announced La La Land as best picture winner. But Moonlight actually won the award. Naturally, election tweets about the best picture mix-up at the 2017 Oscars started flooding in, drawing obvious comparisons.
Exactly what happened will likely leave the internet rattled for days to come, but watching the train wreck unfold in slow motion was pretty horrifying. After Beatty opened the envelope, there was a pregnant pause during which he looked to Dunaway. She laughed it off and read the winner as "La La Land!" Then, the entire production team traipsed up on stage and was about halfway through giving their acceptance speeches when producers rushed out on stage whispering to everyone that there had been a mistake. It was Jordan Horowitz, a producer on La La Land, who finally took to the mic to explain that they were not, in fact, the winners. The audience was deeply confused, forcing him to firmly insist that it wasn't a joke.
Beatty then went back on the mic to explain that the card in the envelope he was given read "Emma Stone — La La Land," which was the award that had just been given out. Dunaway, in haste, simply blurted out the movie title on the card. Emma Stone said that she had been holding her best actress card in her hand after she won the award, and screenshots show Beatty holding what seems to be a duplicate best actress envelope when he announced best picture.
The Moonlight team eventually made their way on stage, but the whole thing was so chaotic (both teams were just milling around in confusion during what was supposed to be a triumphant moment) that they didn't really get to give actual acceptance speeches. In fact, most of the folks from Moonlight spent their time on stage thanking La La Land for backing down so graciously. It was, to put it succinctly, a mess. But it did give an awful lot of people hope for pulling some sort of reverse presidential election. It even sparked alternate timeline theories.
There will surely be a lot more to unpack about the snafu in the coming days, but hopefully, the Moonlight team finds a way to give the acceptance speech they deserve.