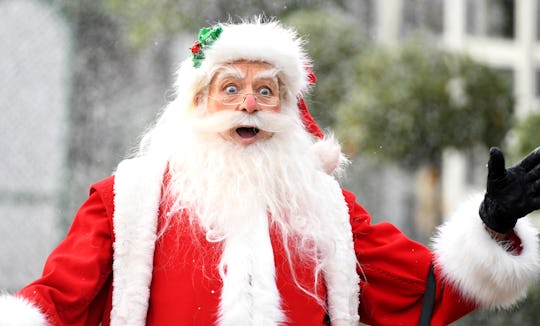 Stuart C. Wilson/Getty Images Entertainment/Getty Images
Parents Are Outraged After A Substitute Teacher Told First Graders Santa Isn't Real
An elementary school can be one of the most festive locations during the holidays. From holiday pageants to adorable decorations, schools tend to embody the spirit of this special season. But one elementary school in Towaco, New Jersey is struggling to maintain its holiday cheer after a substitute teacher told first graders that Santa Claus isn't real, as NBC News reported.
If your family celebrates Christmas, then you're probably anticipating the moment when you'll have to break the news about Santa Claus. Maybe you plan to have a one-on-one conversation with your child about it, or perhaps you want them to figure out the truth in their own time. Either way, the topic of Santa Claus tends to be a personal subject for each family, which is why some parents of Cedar Hill Elementary School students are really upset at the moment.
It all started when an unnamed substitute teacher took over for a first-grade class last Thursday at Cedar Hill Elementary School in New Jersey. The sub reportedly asked the kids what holiday is coming up next, to which one student responded "Christmas," according to NBC News.
The sub then reportedly took the opportunity to inform the young class that Santa Claus isn't real, while also relaying to them that "magic doesn't exist," according to the New York Daily News. The teacher also spilled the beans on elves, flying reindeer, and the Easter bunny, according to NBC News.
As for how parents took the news? Myra Sansone-Aboyoun, a mom of one of the horrified students, told News 12 New Jersey: "I was heartbroken. You know, my daughter is the hugest believer in the whole Christmas spirit — Santa, giving."
Some people on Twitter sympathized with Sansone-Aboyoun's distress, arguing that it wasn't the teacher's place to damper the kids' holiday spirit.
"Can't kids be kids and believe?" one person wrote. "They are only small for a short period of time."
Someone else added: "This would make me furious!"
"I remember how devastated I was at the age of 9 when my older sister told me Santa wasn't real," another person commented. "Children are only children for a little while, soon the will have to face the harsh, ugly reality of the world we live in, let them hold onto their Christmas magic for as long they can."
Other commenters, however, reasoned that kids deserve the "truth."
"The teacher was being kind," one person wrote on Twitter. "She spoke the truth. Children shouldn't be lied to."
"Well... she was telling the truth," someone said. "Aren't teachers suppose to teach our children facts? #SantaClaus."
The school's principal, Michael Raj, also addressed the situation in a letter sent home to parents.
"As a father of four myself, I am truly aware of the sensitive nature of this announcement," Raj said, according to NJ.com. "I am sending this letter so that you are aware of the situation and if the conversation comes up at home over the next few days you can take appropriate steps to maintain the childhood innocence of the holiday season."
Montville Schools Superintendent Dr. René Rovtar added, according to Yahoo:
I am troubled and disheartened by this incident. The childhood wonder associated with all holidays and traditions is something I personally hold near and dear in my own heart.
At this time, it's not clear if the substitute teacher will be invited back to Cedar Hill Elementary School.
No matter where you might fall in this debate, I think most people can agree that parents reserve the right to handle the Santa Claus situation with their kids privately.
As for the first graders? Here's to hoping the rest of their holiday is filled with happiness and plenty of magic.