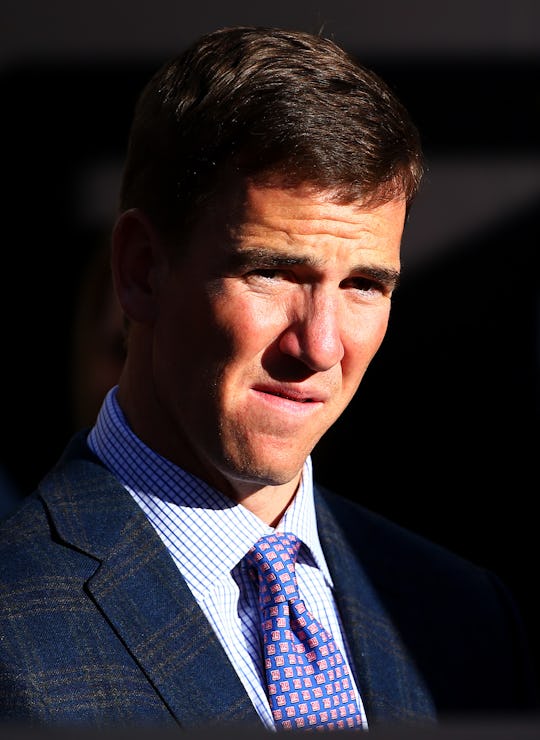 Maddie Meyer/Getty Images
Eli Manning's Face At Super Bowl Has Turned Into A Meme & Twitter Is Loving It
Although Peyton Manning was actually playing in the big game tonight, it was brother Eli Manning's face at the Super Bowl that turned into a meme and took over the night. Shots of the Manning brother watching the Super Bowl showed Eli with a dumbfounded, sort-of-blank look on his face. (It's OK, Eli, you'll be fine.) In all honesty, it's sort of hysterical.
Already people are passing around gifs of Manning clapping, his mouth agape, as a way to comment on the slow nature of the actual game. But it's funnier when you can attach Manning's blank stare to other aspects of life too, like how you feel when Kyle Chandler and Cate Blanchett don't get back together in Carol.
This isn't the first time Manning's sad face has made its way around the Internet. In 2014, he had the same sort of confused, downtrodden face while watching his brother. It's kind of hysterical, right? But Manning isn't actually sad! According to NFL.com, he likes watching his brother play. "I think going to a championship game like last week and kind of just being in that excitement and seeing the crowd and seeing the coaches after that game, it definitely adds a little fire under you to get back to that scenario," he said. The New York Giants quarterback added, "You miss that and, having been there before and knowing that feeling, you get jealous of that feeling and that excitement and everything going along with it."
He's not sad, he's just nostalgic, guys. But that doesn't mean he hasn't turned into the best meme of 2016 so far.
Eli Manning is definitely the funnier brother, even when he's not trying, it seems. If he weren't so successful on the field, you'd almost have to feel bad for him.