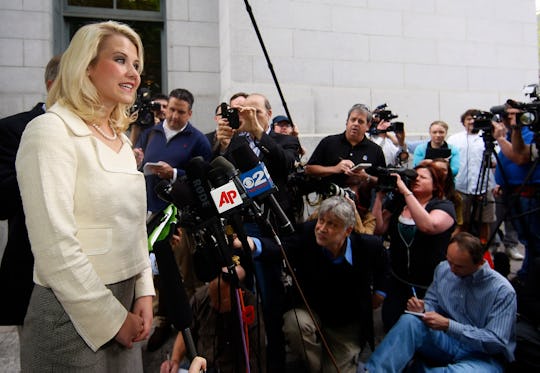 George Frey/Getty Images News/Getty Images
Elizabeth Smart Introduces Baby No. 2 To The World
Sometimes the age old sentiment of "this too will pass" perfectly summarizes up what you're feeling, or need to hear. And no one better encapsulates that notion than Elizabeth Smart. The 29-year-old Utah native made headlines back in 2002 after she was held captive for nine months, and while the horrors of what she experienced are worth noting, it's also important to remember that she's moved on from the trauma, and has created a beautiful life for herself. And this Easter Sunday, Elizabeth Smart's photo of baby no. 2 will remind you that there's still good in the world.
Smart, who married husband Matthew Gilmour in 2012, is active on social media, and has posted many photos of her first child, daughter Chloe Gilmour, who just turned 2 in February. But until today, Smart hasn't shared any photos of her newest little one, whom she gave birth to this month. The little boy, whose name has yet to be revealed, was pictured in the mom of two's recent Instagram post, snuggled up next to his big sister, with the caption, "These two make my Easter perfect! 🐣 #soinlove #happyeaster #sundaysareforfamily #blessed #bigthingsinlittlepackages,"
As Smart's story is equal parts tragic and uplifting, her latest photo is just what you need to see to remember that no matter what you're going through, it will pass.
For further proof of that notion, look no further than another one of Smart's more recent Instagram photos. March 12, 2017 was the 14-year anniversary of Smart's kidnapping, and her poignant Instagram post cementing the day speaks volumes about her ability to find strength in the darkness:
"Today marks 14 years since I was rescued from my nine month long nightmare. I will never be able to thank everyone who helped, prayed, and sacrificed so much to help me. All I can say now is every prayer and every search made a difference. Thank you. God bless us all," she captioned the post. And truly, Smart has made it a mission to remember every lost child, as she regularly posts information and photos of missing children on her Instagram page, and runs the Elizabeth Smart Foundation, which seeks to "prevent and stop predatory crimes," in addition to being a contributor at ABC News.
Truly, as Smart has proven, life goes on. With her marriage, her work, and her two kids, Elizabeth Smart is serving as an important symbol for survivors everywhere that it can get better, and it will.