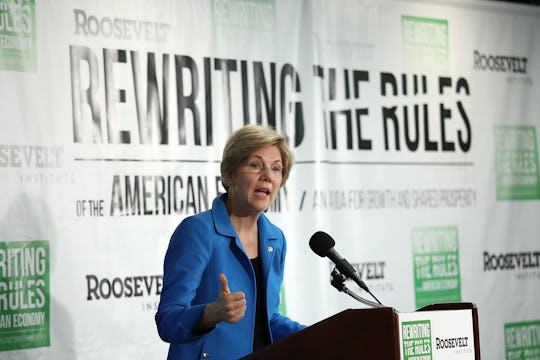 Win McNamee/Getty Images News/Getty Images
Elizabeth Warren Endorses Hillary Clinton, & Isn't Saying No To Being Her Running Mate
One popular Democrat who is excited to stand behind former Secretary of State Hillary Clinton now that she's been named the party's presumptive presidential nominee? Massachusetts Sen. Elizabeth Warren. Elizabeth Warren endorsed Hillary Clinton on MSNBC's The Rachel Maddow Show Thursday, saying she's "ready to get in this fight and work [her] heart out for Hillary Clinton to become the next president of the United States." While left-leaning Warren at times seemed to align more naturally with the ideologies of Vermont Sen. Bernie Sanders, she, like President Barack Obama, refrained from backing either Democratic candidate before Thursday. According to MSNBC, Warren's endorsement of Clinton came on the same day as President Obama's, when he formally endorsed her in a video message.
Of course, speculation has been mounting for a while now that Warren might also be in the running to be Clinton's running mate — something that wouldn't be entirely surprising. According to Reuters, Warren has hinted that she would be interested in adding her name to the Clinton presidential ticket, and in her interview with Maddow, she said she felt she'd be ready to step in as commander-in-chief if needed if, hypothetically, she were named vice president. But she stopped short of saying that she was considering it — insisting instead that she enjoys the work she already does — and according to Reuters, Warren and Clinton have not discussed the possibility.
Part of the reason why, according to The New York Times, is because Warren and Clinton do not always agree on policy, and don't necessarily have "the sort of warm relationship that could be required for such a partnership." Warren, for example, has criticized Clinton in the past for her stance on bank regulations, and she shares a lot of the same views as Sanders, such as his dislike of trade agreements and superdelegates (in fact, the Times noted that Warren specifically held off on formally endorsing Clinton until she could speak with Sanders first).
At the same time, however, those differences could be helpful to Clinton as she battles against Trump. While Clinton has all but clinched the nomination, she has notably had a more difficult time wooing over both younger voters and more liberal voters, who identified much more closely with Sanders' "democratic socialist" message. According to BBC News, a "progressive heroine" like Warren could help close the gap with voters, allowing Clinton to better mobilize the Democratic vote.
There is one thing that Clinton and Warren both clearly agree on however, and that is the need to keep Trump from winning the election. Warren especially has been an outspoken critic of Trump, and in her endorsement, she told Maddow that she wanted "to make sure that Donald Trump never gets anyplace close to the White House."
But that definitely isn't the only shot she's taken at Trump. According to The New York Times, Warren has called Trump a "loser," a "small, insecure, money grubber," and called his recent attack on federal judge Gonzalo P. Curiel's Hispanic heritage "race-baiting," and "a total disgrace."
Not all Democrats are thrilled with the idea of Warren standing behind Clinton, though. According to Vox, many Sanders-supporting Warren fans have taken to social media to express feeling betrayed at her decision to align with the "establishment," and turning her back on the progressive values they thought she stood for. This backlash could, of course, signal that Sanders supporters won't be easily swayed to back Clinton, even with Warren on the ticket — which would be great news for the Trump camp.
Whether Clinton and Warren will team up officially as running mates is obviously still to be seen, as is the effect of Warren's endorsement on Clinton's campaign. But, in such a high-stakes campaign, there's no doubt that, like Warren, many Democrats would like to do whatever they can to keep Trump from winning in November.