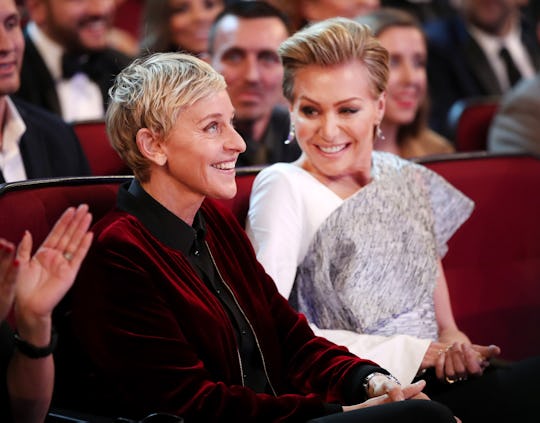 Christopher Polk/Getty Images Entertainment/Getty Images
Ellen DeGeneres Broke A People's Choice Record
Does Ellen have enough People Choice Awards? Maybe. Does she deserve a few more? Sure, why not? Of course she does! At the 2017 People's Choice Awards Ellen DeGeneres broke a People's Choice Awards record by getting her 20th award and honestly no one is more worthy. Way back in 1995 (when I was only 2) Ellen snagged her first People's Choice Award for Favorite Female Performer in a New TV Series in her self-titled comedy series Ellen. Although there was a great 10-year gap between her first award and her second, since 2005 the talk show host has been on a role and it doesn't seem like she's going to stop anytime soon. This year alone Ellen walked away with three awards for Favorite Animated Movie Voice, Favorite Daytime TV Host, and Favorite Comedic Collaboration.
Naturally it was Ellen's bestie Justin Timberlake that came out to present Ellen her 20th People's Choice Award. After reminding everyone how awesome Ellen is (because obviously) and that she also recently got the Presidential Medal of Freedom, an awesome video compilation of Ellen getting PCAs over the years was shown. Also, quick shout to Ellen's wonderful evolution of style through the years as well.
Before Ellen could get her award though, 20 (hot) men came out to present every single People's Choice Award she's ever won. Although Ellen claimed it wasn't her idea to have all these men in suits come out to present her awards, I can struggle to believe her. I've seen how much she loves to show off hot men on her show. Whoever's idea that was though, thank you!
It was after the men were all onstage that Ellen then took the stage to get her record breaking award. While she was so grateful for the people that voted for her so many times and helped her get all these awards, she also used her speech to talk about her love for animals. She told viewers how she wished animals could vote her because she's pretty sure they know how much she loves them. Ellen then explained how animals probably couldn't vote because they didn't have opposable thumbs and how snakes definitely couldn't vote because they have no thumbs at all. Overall, it was a pretty Ellen like speech and I love her even more now.
Congrats again to Ellen! These awards are much deserved and I'm sure she'll win even more in the future.