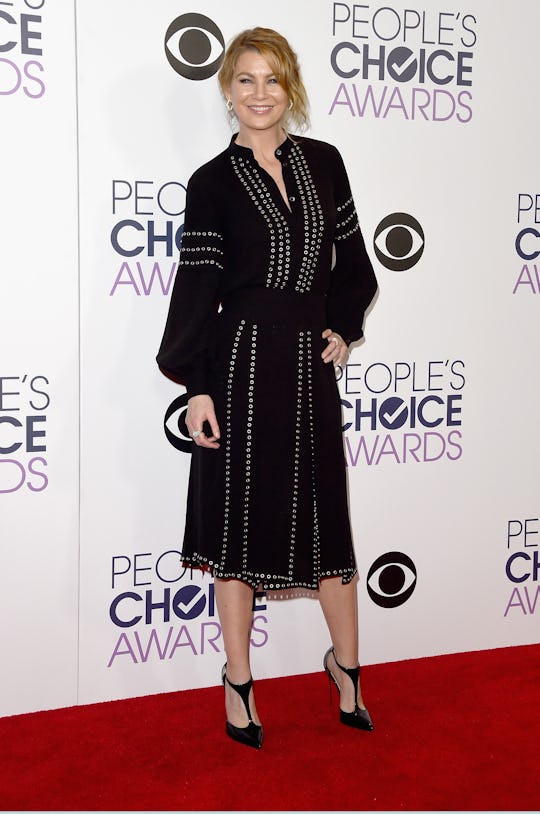 Jason Merritt/Getty Images Entertainment/Getty Images
Ellen Pompeo Posts A Video Of Her Son On Instagram
She recently became a mother for the third time, and now Ellen Pompeo has posted a video of her son on Instagram, sharing an unbelievably gorgeous mom moment with her followers. The Grey's Anatomy star made headlines earlier this week when she announced that she and husband Chris Ivery had recently welcomed son, Eli Christopher, into the world, according to E! News, but in her latest Instagram post, Pompeo's joy and love for her son is on full display, as she snuggles and dances with her little one in the kitchen, looking pretty much like the picture of new mom bliss.
In the black and white video, which she posted Sunday, Pompeo has a big smile on her face as she dances cheek-to-cheek with little Eli, while slow music plays in the background. Although Eli doesn't appear too impressed with his mother's dancing, it's the kind of beautiful, heartfelt moment you could watch on a loop and never get sick of. And the look on Pompeo's face is one that many parents will recognize and remember well from falling deep in love with their own little ones. In the video's caption, Pompeo wrote,
Boy Crazy....Here's to a year filled with happiness and love! Happy New Year ❤️🌎❤️
The video isn't the first Pompeo shared of her son, however. On Thursday, the actress — who is also mom to daughters Stella Luna, 7, and Sienna May, 2 — posted a photo of Eli snuggling in bed with Ivery, with a sweet smile on his face. In the caption, Pompeo admitted that "Chris Ivery just fell a notch," explaining that she's "got a new guy" now that Eli had arrived.
Although Pompeo and Ivery seem to be over the moon to be parents again, it seems that perhaps they weren't necessarily intending to announce the news when they did. According to People, rumors of Pompeo's expanded family began swirling after Ivery was spotted carrying Eli in a carrier while the family hiked in Los Angeles on Wednesday. Pompeo's rep then confirmed the news, telling the mag that "everyone's doing great."
It wouldn't be the first time though, that Pompeo and Ivery had kept a birth announcement under wraps. According to Us Weekly, the couple didn't publicly reveal the birth of their second daughter, Sienna May, until weeks after she was born by surrogate in 2014 — and they even kept their wedding a secret, exchanging vows in a city hall wedding in New York City, which was witnessed by Mayor Michael Bloomberg.
Now that the cat's out of the bag though, it's clear that Pompeo and Ivery are more than happy to share all the happy moments stemming from being a newly-formed party of five. And there's no doubt that Pompeo's fans are absolutely thrilled about that.