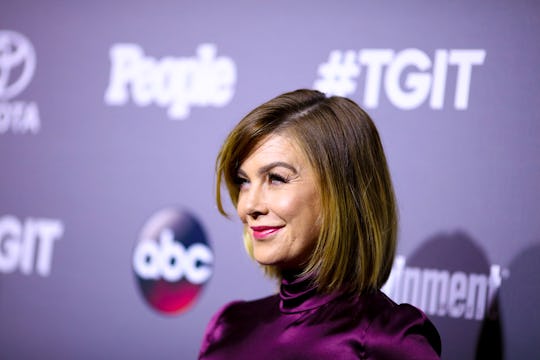 Mark Davis/Getty Images Entertainment/Getty Images
Ellen Pompeo's Quotes About Surrogacy Are Honest
Grey's Anatomy star Ellen Pompeo and her husband, Chris Ivery, recently welcomed their third child, a son named Eli Christopher. The actress posted a photo of her husband and son on Instagram last week, and a rep confirmed the child's birth to Us Weekly. Eli is presumed to have been carried by a surrogate (Pompeo's rep did not immediately return a request for comment); Pompeo gave birth to their first daughter, Stella Luna, while Sienna May was born via surrogate in 2014. Ellen Pompeo's quotes about surrogacy show that she's very grateful to the unnamed woman (or women) who carried her children for her.
"This is an incredible thing to do with your life, to give the gift of carrying someone's child," Pompeo told Jimmy Kimmel in October 2014, after announcing the birth of Sienna. "I am forever grateful and feel very blessed and grateful to her." She was very open, if not all that scientifically accurate, as she cheerfully explained the surrogacy process to Kimmel, revealing that she was present during the embryo implantation procedure. "I looked into the microscope and I saw the embryo," she told the late night host. "They put it in a thingy and they inseminated her ... and now we have a gorgeous baby girl."
Pompeo doesn't often speak out about her personal life; as she pointed out to Kimmel, she initially kept her marriage a secret, for a few days, anyway. Pompeo and Ivery were married in New York City in November 2007 with Mayor Michael Bloomberg serving as a witness, according to TMZ, but when questioned by the paparazzi soon afterwards, they claimed to be getting married "soon." And apparently that was always the plan; in 2006, after the couple got engaged Pompeo told People, "We'll get married eventually, secretly."
Pompeo did confirm her pregnancy to People back in 2009 after she was spotted shopping for baby gear, but kept quiet about the second baby for two months before tweeting a photo. Pompeo cited the surrogate's right to privacy as the reason she kept quiet for so long. Reps for the family have only confirmed Eli's name, and that he's "doing great," but from the few images available, as well as the Instagram video shared by Pompeo, it looks like he's already smiling and holding his head up by himself, which would would mean that he's probably around two months old. Judging by paparazzi photos of Pompeo on vacation in June, she certainly didn't look pregnant at the time. Whether she speaks out about what could be another surrogate birth remains to be seen. Pompeo's rep has not responded to Romper's request for comment.