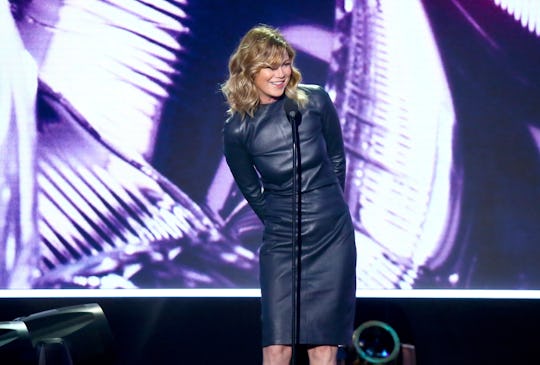 Mark Davis/Getty Images Entertainment/Getty Images
Ellen Pompeo Is Thankful For Her Baby Nurse
In December, actor Ellen Pompeo and her husband Chris Ivery welcomed their third child, Eli Christopher Pompeo Ivery, into the world. Their newest addition to the family captured everyone's hearts when the Grey's Anatomy star shared his photo on Instagram after he was born. Now he's 5 months old and Pompeo spoke about him in a recent interview, saying said her son is "so adorable." But she also got real in the interview, admitting that her baby nurse is a huge help.
Pompeo visited The Ellen Show on Thursday and gushed over her baby boy and beautiful family, which includes daughters Stella Luna, 7, and Sienna May, 2. According to Just Jared, the 47-year-old actor told host Ellen DeGeneres that son Eli is "so cute" and "the sweetest thing ever." He's also sleeping through the night, Pompeo said. Yes, fellow parents, you're allowed to rage with jealously.
Pompeo credits her "fantastic" baby nurse, Jackie, for helping the actor balance work and parenthood, as well as get much needed rest. According to PEOPLE, Pompeo told DeGeneres that she would be "nowhere" if Jackie wasn't there to support her because she works "long days" and she needs help taking care of Eli. "She's got my back," said Pompeo, who has also lent her voice to Disney's hit animated series, Doc McStuffins.
She then added,
I don't know how women do it, especially at night like that, and then you have to get up and go to work. It's crazy.
It's challenging for many parents, including this author, to maintain a career and a life while also caring for a young child. There are a lot of demands placed on you by your job, your kid, your family, your friends — by everyone, really. That's why baby nurses are a vital resource for so many working parents. A trained newborn care specialist can support you through the first few weeks or months postpartum by helping tend to your baby's feeding and sleeping needs on a part-time or full-time basis.
Unfortunately, for many parents, a baby nurse is financially out of reach. According to the New York Times, one week of newborn care services can cost upwards of $1,000. So it's a privilege for the Grey's Anatomy star to have Jackie by her side. Most parents struggle to juggle work, sleep, and parenthood.
Still, it's important that Pompeo acknowledged the support she receives from her baby nurse. Baby nurses are a resource every parent should have access too. Hopefully, with more awareness, there will broader support for newborn care specialists and parents available.