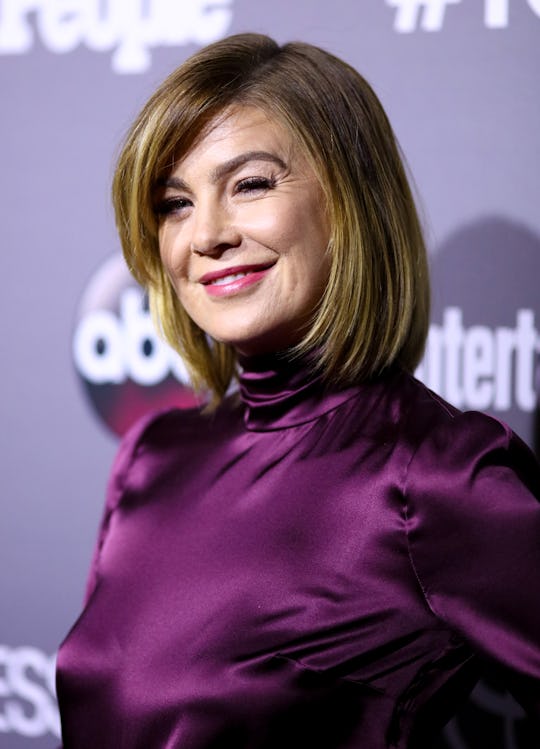 Mark Davis/Getty Images Entertainment/Getty Images
Ellen Pompeo Shares First Photo Of Her 3rd Child
The holidays are always a magical time, but judging from Ellen Pompeo's first photo of her third child, one family is having a much sweeter holiday season than normal. On Wednesday, Pompeo posted a picture of her newborn, Eli Christopher lounging with her 47-year-old husband, Chris Ivery. The Grey's Anatomy actress captioned the photo, "Chris Ivery just fell a notch. I've got a new guy." The couple were also spotted hiking this week the with infant and their other two children Sienna, 2 years old, and Stella, 7 years old.
Pompeo is usually private when it comes to her personal life, so we're lucky that she's enamored enough with little Eli to post a picture of him and his dad on social media. But the actress has opened up about being a mom before.
While pregnant with Stella, she told Allure that she was looking forward to the huge lifestyle change — and for good reason. Pompeo said, "[Chris and I] enjoy our life so much. We go to Europe and sleep in." She added, "So when I have the baby, I won't feel like we've missed any fun, reckless times together, like staying up all night drinking champagne and having sex until five in the morning and not having to get up until two in the afternoon."
But having kids makes up for all that fun, right? (Just go with it.)
For her second pregnancy, the actress was very open about her use of a surrogate. She said that the whole process blew her mind. "This is an incredible thing to do with your life, to give the gift of carrying someone's child. I am forever grateful and feel very blessed and grateful to her — she who will remain anonymous," Pompeo said at the time, according to AOL.com:
I was there with her when they inseminated her, and we held hands. I looked into the microscope and I saw the embryo. I saw the baby, and they put it in a thingy, and they inseminated her. And then we held hands, and we prayed, we talked to God, and if she was meant to be.
But Sienna's arrival wasn't as exciting for other members of the household. Big sister Stella wasn't too thrilled with the addition. Pompeo told Ellen DeGeneres, "She liked her at first. After three months, she was like, 'Is she leaving?' I was like, 'No, no, she's going to live here.' And she was like, 'Oh, okay.'" It took about a whole month for the older sister to get out of her funk about not being the only child.
Hopefully, the two girls aren't as bummed about the arrival of little Eli.