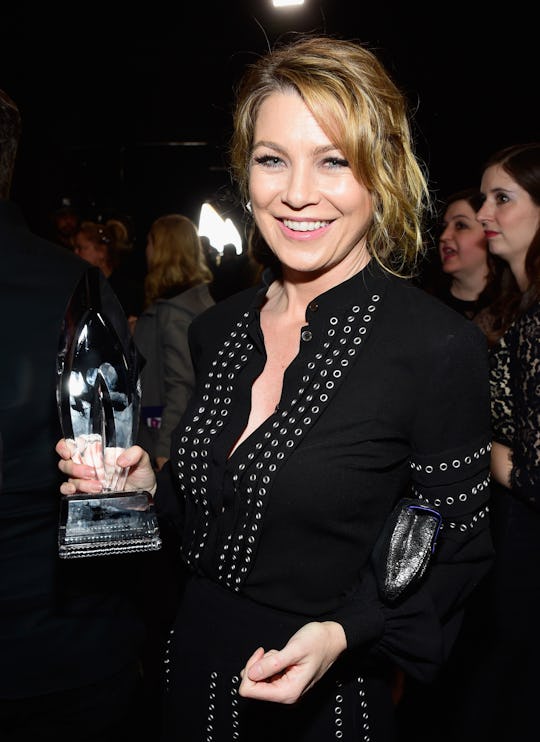 Frazer Harrison/Getty Images Entertainment/Getty Images
Ellen Pompeo's Parenting Instagrams Are Too Cute
Grey's Anatomy actress Ellen Pompeo's family has welcomed a new bundle of joy. She announced in an Instagram post on Thursday that she and her husband, Chris Ivery, recently welcomed their third child, Eli Christopher. The announcement included an absolutely adorable photo of Ivery holding baby Eli, who appears to be sporting the cutest smile already (seriously, talk about cuteness overload). But there should be no surprise that the Grey's Anatomy star's baby announcement on Instagram is adorable since Pompeo's parenting Instagrams are already too cute for words.
As The Huffington Post reported, baby Eli Christopher is the couple's third child – they have two daughters, Stella Luna, 7, and 2-year-old Sienna May. In the caption associated with the Instagram picture announcing the birth of her baby boy, Pompeo wrote, "...Eli Christopher... Chris Ivery just fell a notch.. I've got a new guy."
It's certainly exciting news for their family. And judging by Pompeo's previous interviews in which she has shared some of the advice she continually passes along to her daughters, it's clear baby Eli Christopher will surely have a lot of great advice to look forward to. In an interview with People back in September, Pompeo explained that she teaches her daughters about the importance of being empowered and showing compassion.
"We should empower each other and have compassion for each other and help each other and feel good about ourselves," she said. Absolutely. And her sweet Instagram photos with Stella Luna and Sienna May tells it all.
In 2014, Pompeo announced that she and Ivery had recently welcomed Sienna May to the world via a surrogate. An article by E! News cited to a tweet published by Pompeo, reading "Sienna was born via surrogate & I would like to thank my whole @ShondalandTV family for helping us enjoy these first few weeks privately [heart] U."
In an Instagram post around that time period, Pompeo shared an adorable (of course) photo with Ivery holding Sienna May. Her caption read: "Sienna May Ivery welcome to the world," she wrote. "We love you more than words can say."
I'm sure fans of the Pompeo and Ivery clan are excited to see more pictures of Eli Christopher, and of course more of his two sweet big sisters. Whatever the parents decide when it comes to sharing more photos of their children with the public, one thing's for sure: they will be adorable. Congratulations to the Pompeo-Ivery family!