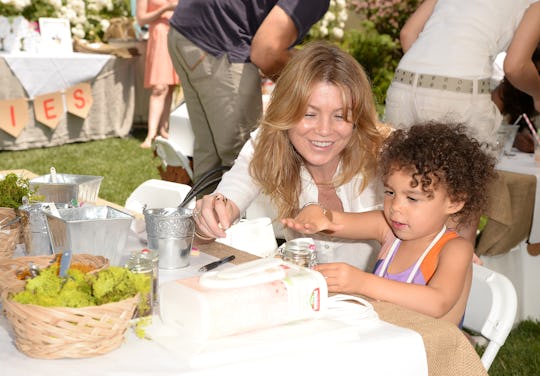 Jason Merritt/Getty Images Entertainment/Getty Images
Ellen Pompeo's Quotes About Her Kids Are Badass
Grey's Anatomy actress Ellen Pompeo and her husband, music producer Chris Ivery, have three adorable kids together: 7-year-old Stella Luna, 2-year-old Sienna May, and 5-month-old Eli Christopher. Pompeo and Ivery have mostly kept their kids' lives private, but the Grey's star has opened up about her home life now and again — and if nothing else, Ellen Pompeo's quotes about her kids prove she's very intent on teaching her kids that diversity is beautiful.
"My daughters are black so it's very important to me that they see a lot of images of beautiful, powerful, strong black women," Pompeo told People in July 2016. "Every time [Venus and Serena Williams] play tennis, I make sure my daughters watch them."
Pompeo has spoken up before about the need for young girls to grow up in a diverse, representative world. "I didn't see any diversity in the Emmys at all. The Emmys felt so dated to me," she told USA Today in 2013. "Did you see one person of color in that dance number?
At the same time, she told USA Today that she was "very, very proud" to work with a diverse cast on Grey's Anatomy that better represented the world around her.
Making sure her daughters grow up with that same representation matters to Pompeo. "Every time there is a black woman on a magazine cover, whether it is Kerry Washington or whoever it is, I make sure that magazine is in my house and on my table," Pompeo told People. "For me, that's super important."
Pompeo has also spoken up about the criticism she and her husband have faced on Twitter. "You do realize...being married to a black man and having black children can make you a target from racist white people right?" she wrote last year, after being criticized for using black emojis while thanking A&E for changing the name of Generation KKK to Escaping the KKK. "That's a thing."
And while Pompeo has shared plenty of criticism about the current administration on Twitter, she remains grateful that her daughters spent their first few years growing up with a black president in power. "I feel really fortunate that they are growing up in a time [in which] the first president my daughter knows is Barack Obama," Pompeo told People. "That's an incredible gift."
Kudos to Pompeo for raising her kids with strong, representative role models, and for speaking openly about their upbringing. Being a biracial family in a world still often laced with racism isn't always easy, but Pompeo clearly wants her girls and little boy to grow up knowing diversity is beautiful.