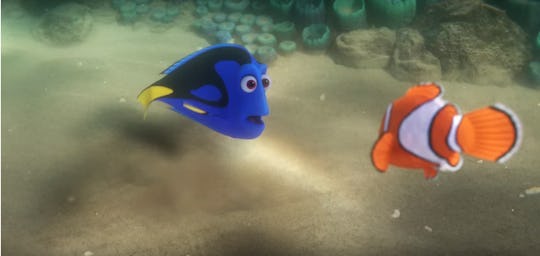 The Ellen Show/YouTube
Ellen Premieres 'Finding Dory' Trailer 12 Years After 'Finding Nemo,' & It's Just As Adorable As You'd Expect
Get ready to "just keep swimming," because Ellen Degeneres shared the first trailer for Finding Dory, the long-awaited follow-up movie to Finding Nemo, on her talk show Tuesday morning. In the movie, set to premiere in June 2016 (thirteen years after Finding Nemo first hit the big screens), Degeneres returns as Dory, a blue tang fish with some pretty severe memory gaps. She's joined once again by her clownfish pal Nemo, and his dad, Marlin. 
The trailer begins with Dory talking in her sleep, and then sleep-swimming. When she awakens, she realizes that for the first time, she's remembering things. She has a family, and she needs to find them. Albert Brooks returns as Marlin, according to Yahoo, and joining the cast for the first time is are Diane Keaton and Eugene Levy as Dory's parents, Jenny and Charlie, Ty Burrell as a beluga whale named Bailey, Ed O'Neill as Hank the octopus, Kaitlin Olsen as a shark called Destiny, and Dominic Cooper and Idris Elba (in roles that are still under wraps, but that makes me super curious).
It's been so long since Finding Nemo was in theaters, the kids who first watched it are probably off having their own kids now. Will this help Pixar's ticket sales? It's certainly been a boon to Discovery Family, whose entire business plan seems to be "bring back the stuff the parents watched." (Not too bad of a plan, if you ask me.) In addition to airing classics like Fraggle Rock and Jem and the Holograms, the network has recently rebooted just about every Hasbro commercial disguised as a cartoon that you remember from your own childhood: Transformers, My Little Pony, Strawberry Shortcake, and G.I. Joe, just to name a few.
So has Nemo been out of the game too long for a sequel, or will fans be running back to the theater with open arms (and wallets)? Check out the trailer below:
Image: The Ellen Show/YouTube