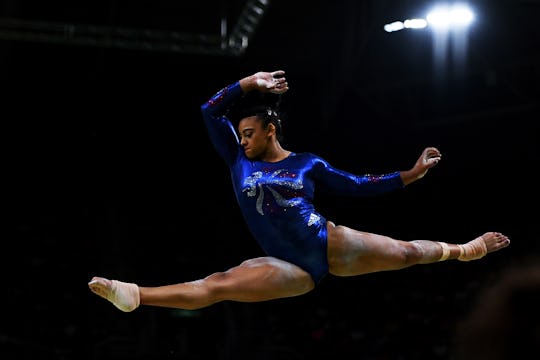 David Ramos/Getty Images Sport/Getty Images
Ellie Downie Updates After Her Fall Prove Her Dedication To Her Sport & Her Teammates
British Olympic gymnast Ellie Downie suffered an terrifying fall during the floor competition on Sunday. She feel directly onto her head, but two days later, on Tuesday, she competed on the balance beam as if nothing had happened. Ellie Downie updates after her fall prove just how dedicated Olympic athletes are to their craft and their teammates.
NBC reported that Downie didn't have enough control during "a flip with two-and-a-half twists directly into a tucked front flip," so she fell directly on her head and neck. Downie later told reporters that she "heard a crack" from her neck when she fell, but she still got back up and attempted to complete her routine, according to The Guardian. But before her final tumble, NBC reported that she shook her head and stepped off the mat. Then her coach and a physician helped her into a wheelchair. It was a terrifying moment, and footage of the incident replayed — to viewers dismay — over and over again.
Many viewers assumed that it was an injury Downie wouldn't come back from, but she went on to compete in the vault and helped her team qualify for the finals against the Americans, Chinese, and Russians, according to The Guardian.
Some expressed worry and frustration that Downie was still allowed to compete after such an injury. USA Today High School Sports reported that gymnastics website Gymnastics Zone said that any gymnast who has experienced a potentially severe head or neck injury "should not return to practice or competition the same day of the injury," according to USA Today. Downie went on, in the same day, to compete in the vault even though she heard a cracking sound coming from her neck. It definitely doesn't seem like the best decision if the health and safety of the athlete were put first, but, like in many other sports, those kinds of concerns often take a back seat to the wellbeing of the team.
Downie's older sister, Becky, told The Guardian that she's glad her sister stopped immediately after the fall, but that she wasn't surprised or nervous that she went on to compete in the vault the same day.
"I know what Ellie is like," she told The Guardian. "She's a fighter." And it's clear that Downie is. Her commitment to her team and to her sport is not debatable.