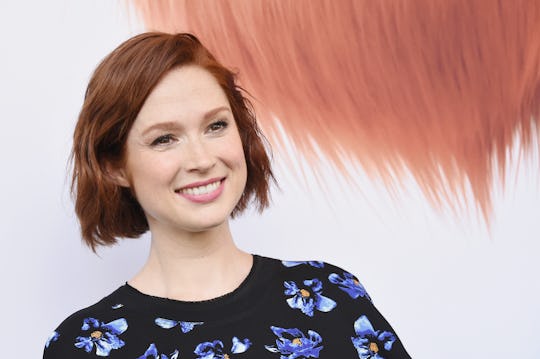 Mike Coppola/Getty Images Entertainment/Getty Images
Ellie Kemper Welcomes First Child With Michael Koman — REPORT
Unbreakable Kimmy Schmidt's Ellie Kemper is a mom! Kemper has welcomed her first child with husband Michael Koman, according to People. No other details about the baby's arrival have been released and Kemper's rep hasn't commented yet. Koman and Kemper married in 2012, according to People, and Kemper has been super excited about the pregnancy.
UPDATE
Kemper's co-star, Tituss Burgess, shared his excitement (and the baby's gender!) as reported by US Weekly: "My Ellie had her baby. A son. But why am I emotional. He's not mine. Also someone is gonna call her mom. I cannot wrap my head around it."
Kemper announced the pregnancy on The Tonight Show in April, and then she told The Today Show that she and Koman decided against finding out the baby's sex, according to The Cut.
We are not finding out — isn't it wonderful? We have it in an envelope, actually. But I haven't looked!
Kemper told The Today Show that she found out she was pregnant while filming the second season of Kimmy Schmidt, and that she hid it from almost all of her coworkers the entire time. Kemper told Jimmy Fallon on The Tonight Show that the pregnancy didn't really affect her filming Kimmy, but that she did start asking herself hilarious pregnancy-related questions:
[My pregnancy] didn't really affect filming [Unbreakable Kimmy Schmidt season 2] until the very end. We had a table read and I saw that my character was supposed to be on a roller coaster. I was Googling pregnant women on roller coasters.
Kemper earned a collective high five from moms and expectant moms pretty soon after she started showing. She told Today that she did not want any of that creepy stomach touching to happen to her, according to Hollywood Life. She described people wanting to touch her stomach as "actually crazy":
I don't know what goes through a person's mind — a stranger's mind no less — when they think, 'Oh yes, your stomach is something that now belongs to me and I can touch it.'
Yes, Kemper, you go. Because pregnant women's stomachs belong to them and only them — before, during, and after the pregnancy. Because, unfortunately, the stomach-touching tradition extends to other parts of expectant mothers lives: people want to tell pregnant women what to eat, how to dress, where they can and can't go for dinner, whether they should breastfeed or formula feed — the list goes on and on.
There's no doubt that, if Kemper does reveal the baby's sex to the world, fans probably shouldn't expect photos anytime soon. Just like strangers don't have a right to touch a pregnant woman's stomach, they also don't have right to photos of another person's child, regardless of whether that child came from someone as well-known and awesome as Kemper. (But really, photos would be cool.)