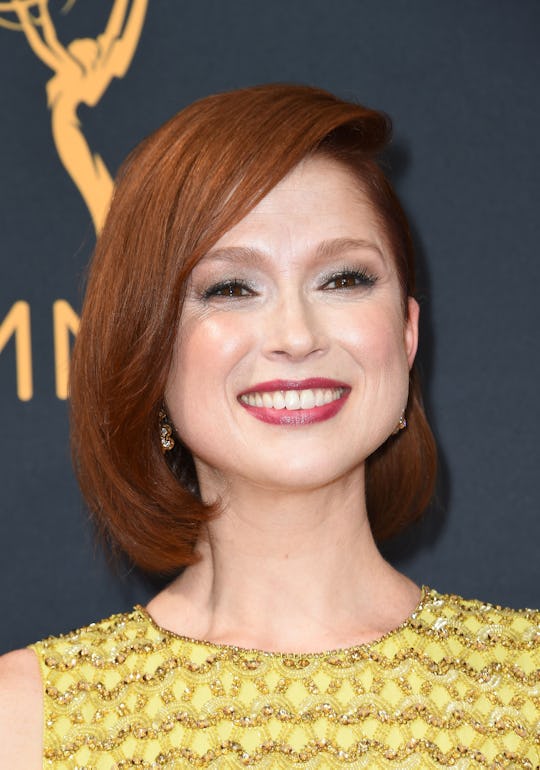 Ellie Kemper's Comments About Being A Mom On The 2016 Emmys Red Carpet Are So Real
The 2016 Emmys aired on Sunday night, and, with it, my personal favorite part of any awards show — watching the red carpet coverage and seeing what everyone is wearing. Over the years, the questions have become less about the outfit and more about the actors and actresses. This year, Giuliana Rancic interviewed The Unbreakable Kimmy Schmidt star Ellie Kemper about how she's enjoying motherhood so far. And Ellie Kemper's comments about being a mom prove that she is all of us.
"I haven't quite figured out anything yet," she said, echoing what moms around the world feel but may be afraid to say.
E! reported that Kemper and husband Michael Koman had their first child, a baby boy, in the beginning of August. When asked what new motherhood was like for her, Kemper responded succinctly, "No sleep and lots of milk." It seems Kemper is actually super real, and not a fairy elf princess as I originally thought. Most new moms can agree that the first few months of sleeplessness with a newborn child is uniquely harrowing, and it's nice to see Kemper cop to the difficulty of it and with all of her signature upbeat charm which is totally irresistible.
When asked how her character Kimmy would deal with parenthood, Kemper said that she would most likely remain "unbreakable" even when faced with a crying child in the middle of the night. She explained that Kimmy takes things in 10-second increments, method of dealing with life that is both wise and practical. After all, you can put up with anything if it's just for ten seconds. For this reason, Kimmy, with all her fortitude, would probably deal with the struggles of new motherhood better than Kemper does. At least, that's what Kemper says.
According to Us Weekly, Kemper decided to keep her pregnancy a secret for as long as possible while filming The Unbreakable Kimmy Schmidt, only telling executive producer, Tina Fey. It only became a problem near the end when she learned that her character was supposed to go on a roller coaster. She explained that she couldn't go on the roller coaster due to a "back injury." The couple has opted to not yet reveal the name of their baby, which Kemper promised will be "fairly traditional."
Whatever the baby's name is, it's clear that Kemper is absolutely killing it when it comes to "having it all," whatever that means, just like every woman with a child ever has worked her butt off to "have it all."