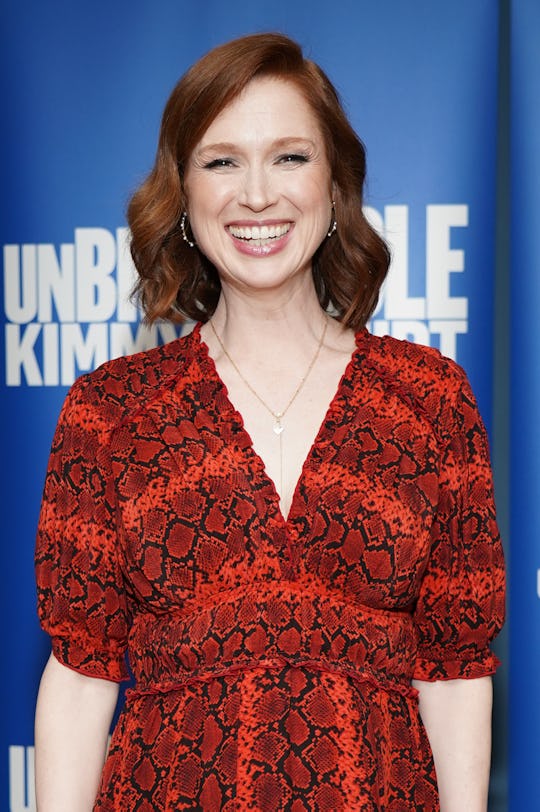 Rachel Luna/Getty Images Entertainment/Getty Images
Ellie Kemper's First Photo Of Baby Number Two Is Seriously The Sweetest
If you're a fan of Ellie Kemper then you probably know she prefers to keep her private life outside of acting, well, private. Every once in a while, she'll open up about pregnancy and/or motherhood. But for the most part, photos of her children and kid-centric social media posts aren't going to happen. Except the Unbreakable Kimmy Schmidt just announced the arrival of her second child via Instagram. And Ellie Kemper's first photo of baby number two is seriously the sweetest.
On Saturday, Oct 5, Kemper revealed that she had indeed given birth to her and husband Michael Koman's second child, according to E! News. (Their newest addition joins big brother James, who is 3.) And get this — it happened a whole month ago! Interestingly, Kemper's post on Saturday was news for three different reasons: A birth announcement, a sex reveal, and a name reveal all in one. "Happy 1-Month Birthday to our baby boy, Matthew!" she wrote on an Instagram photo of her and her new son in a baby carrier. "He has inherited his dad's brown hair and his mom's desire to be carried around all day in a baby sling. He's a good boy."
Since Matthew is snuggled against his mama in a carrier, all Kemper's Instagram followers can see is the back of his adorably fuzzy head. But still — look how incredibly sweet he is!
It was obvious that Kemper's Instagram followers were enamored with her newborn son. Busy Philips commented, "Ellie! Congratulations!!!! His head is beautiful and you look stunning!!!"
Another Instagram user wrote, "Ahhhhh Ellie!!!! Congrats!!! Hope you're feeling good and getting some form of sleep!"
"What happened to James. Did you forget about him already?" Azie Dungey, a writer for Unbreakable Kimmy Schmidt, joked. Kemper replied, "Azie, don't be silly! James is around here!....somewhere....wait." (LOL!)
It was in June that the former The Office star announced she was expecting her second child, Us Weekly reported. Kemper did so inadvertently during an appearance on Jimmy Kimmel Live — when the late-night show host was razzing Kemper for missing a party he hosted for the cast of Live in Front of a Studio Audience: Norman Lear's All in the Family and The Jeffersons.
"This is my nightmare that this subject would come up," she said. "I was unable to make it. I am so sorry. I'm gonna tell you why: It's because I'm pregnant and I felt sick … I've been blaming the pregnancy [for] so many things, and this is one of them."
As it turned out, Kemper was much further along at the time than it might have seemed at first. That's because just a few days later, the actress shared that she was "basically in my third trimester now" while on Live with Kelly and Ryan.
Now that Ellie Kemper is officially a mom of two, I wonder if she'll suddenly start sharing daily photos of her two boys via Instagram. (Hey, a fan can dream, right?) Either way, I can't wait to hopefully hear anecdotes from her on what adding baby Matthew to the family has been like. Congrats on your sweet baby boy, Ellie!