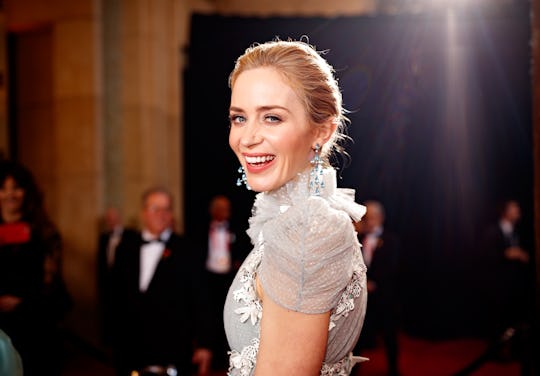 Christopher Polk/Getty Images Entertainment/Getty Images
Emily Blunt Opens Up About Being Bullied As A Kid, & Her Story Is A Must-Read For Parents
You might not expect that some of your favorite celebrities were once bullied as kids, but it happens. It can be disheartening and surprising to initially hear, but their stories of overcoming it are inspiring and can help so many people who have been there or experienced bullying in the past. For example, in a recent interview, actress Emily Blunt opened up about being bullied as a kid and her story is powerful and it's something every parent should hear.
Many people are familiar with Emily Blunt from her role as the "mean girl" Emily in the 2006 filmThe Devil Wears Prada, where her character was closed off to Anne Hathaway's rag tag character, Andie Sachs while working for the fictional Runway magazine. But underneath that icy exterior was a seasoned actress, Blunt, who had experienced bullying on that same level once before.
Although she's a totally successful and composed actress now, in a new interview with People TV, Blunt revealed that she herself had been bullied before due to a stutter she had as a kid that never really went away, according to People. "It still comes back and flares if I'm really tired, or when I was pregnant it was really prominent again," Blunt said.
Blunt explained to People that her stutter is genetic and something she has had to deal with her whole life — but as a kid, it got hard to live with it. Blunt explained to People:
It runs in my family. I had an uncle, cousin, grandfather who stuttered. It's nothing to do with anxiety. It's just a kind of brain-synapse that happens to people who are genetically predisposed to have it. The worst is having it at 12, 13.
Blunt revealed to People that through her work with the organization, American Institute of Stuttering, she along with the institute have been able to help kids and adults with their stutter and overcome self-esteem issues that come with having a stutter. "It's not just kids," Blunt told People. "You have adults into their 40s and 50s who have not been able to get the jobs that they deserve because you're sort of misrepresented by how you speak. It's nothing to do with an anxiety, or a nervous disposition."
Blunt added that having a stutter is "very bullied." But she told People that the American Institute of Stuttering offers people a "real community" to seek refuge from bullies.
Blunt isn't and wasn't alone, especially when it comes to being bullied. In the United States more than 3 million people stutter, according to Do Something. Around 5 percent of children will develop a stutter in their childhood, according to Do Something, and it could last for several weeks to several years. Children at school get bullied over the silliest of things, so having a stutter can lead to those kids being bullied, according to The Conversation, which is something that no parent wants to hear or see.
Teachers can help out with this, according to The Conversation, by sitting down with the student and addressing their needs when it comes to their stutter. And parents can help by working with their child and even seeking help from a speech pathologist to overcome the stutter. In 2014, Blunt again opened up about being bullied for her stutter, telling NPR:
Kids can be so merciless, can't they? Most of them speak so fluently and they can't possibly understand why you can't. A stutter can be like a straightjacket. I struggled with vowels so "Emily" was like the depths of hell for me.
But those kids who have a stutter can also look to celebrities like Blunt who have been more than willing to share their stories with everyone else to let people know that they're not alone. Her story can reach and help so many people who have gone through the same things as her and that is so important.
Check out Romper's new video series, Bearing The Motherload, where disagreeing parents from different sides of an issue sit down with a mediator and talk about how to support (and not judge) each other's parenting perspectives. New episodes air Mondays on Facebook.