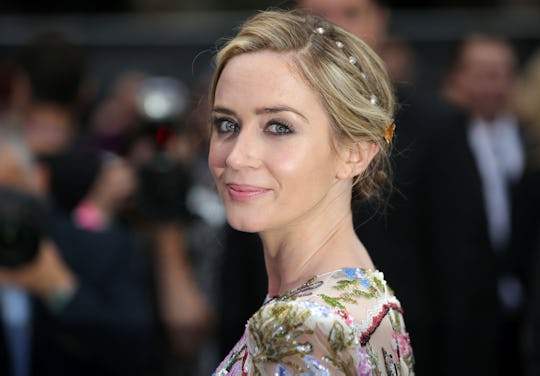 DANIEL LEAL-OLIVAS/AFP/Getty Images
Emily Blunt Talks About Motherhood & Her Latest Role As An Alcoholic, & It's Eye Opening
To prepare for a raw and edgy role in the upcoming film The Girl on the Train, a recent interview revealed that Emily Blunt adopted a unique method to play a perpetually drunk heroin. And while the character's story and her real life contrast on many levels, in the interview Emily Blunt talked about how motherhood opened her eyes and her heart to the heartbreaking reasons that led her character to alcoholism.
In film adaptation of The Girl on the Train, which hits theaters on Friday, Oct. 7, Blunt plays a 32-year-old woman named Rachel, whose life fell apart after her inability to conceive a child led her to alcoholism and struggles to overcome her divorce from a man, who left her for another woman who was able to give him a daughter.
"For me, being a mother, my heart is just cracked open right now to anything to do with children," Blunt said in an interview with the New York Daily News.
Blunt is a mother to two daughters with her husband John Krasinski — 2-year-old Hazel and 3-month-old Violet — and the British-born actress told Vogue in 2014 that having children is "really the coolest thing that's ever happened to me."
In real life Blunt has been able to experience all of the wonderfullness and all of the pitfalls of parenthood, unlike her character in The Girl on the Train. So, in the same interview with the New York Daily News, Blunt explained that it was a challenging process to portray all of her character's self-destructive tendencies without appearing comical, but a convincing drunk who is uncomfortable to be around.
Blunt told the New York Daily News:
That was my concern. I think there are pitfalls with it; that you can appear comical, lurching around like a drunk uncle. I think she needed to be frightening. It's a very real disease and its claws are in her. I think a drunk is uncomfortable to be around, a drunk is unsettling to be around. Nobody wants to breathe the same air as a drunk.
According to the interview, she explained that instead of hitting the bottle herself, instead her method to prepare involved interviewing friends who had battled addiction themselves, doing research on alcoholism, and watching documentaries.
While Blunt has many family-friendly films under her belt, like Mary Poppins coming out in 2018, the actress admitted that her daughters won't be allowed watch this edgy film any time soon.
But, her oldest daughter, Hazel, did accidentally catch a glimpse of a trailer for the movie.
"When I came home from work, she said, 'I don't want to see mommy on the screen anymore,'" Blunt said in the same interview with the New York Daily News. "I was like, 'Oh, great, that's it for acting!'
She continued, "I just explained there's sometimes there's 'screen mommy' and sometimes there's 'real mommy.' But how do you explain this job when it's so bizarre?"
When her girls do grow up, Blunt will have an even more multifaceted collection of films for them to watch and can one day see the complicated and intriguing character she plays in her latest film. In the meantime, looks like little Hazel and Violet will stick to cheerful or animated movie entertainment.