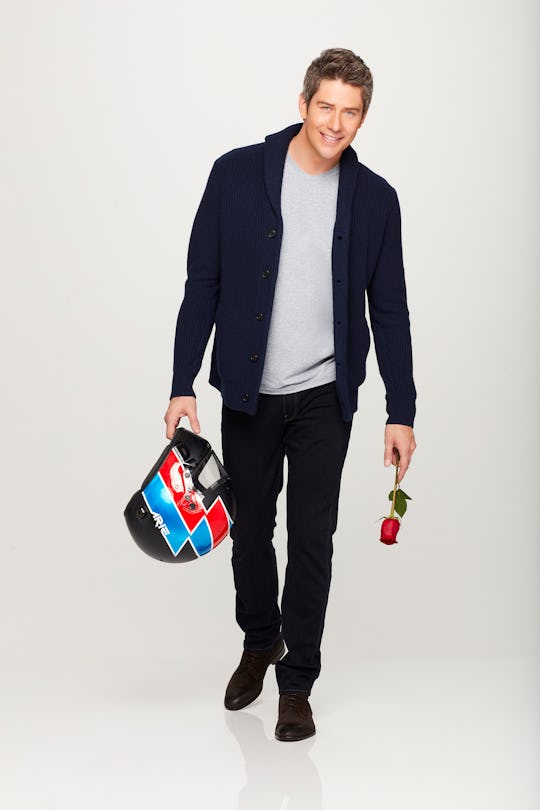 Craig Sjodin/ABC
Emily Maynard Has A Message For Arie & 'Bachelor' Fans Need To Hear It
I can imagine watching a season of The Bachelor as a former lead could be pretty awkward. So awkward, in fact, that Emily Maynard said she wouldn't watch Arie's season, but it seems like she couldn't resist. Emily's message to Arie on The Bachelor shows that she really wants him to find his special someone. While Emily didn't end up marrying the winner of her season, she has since found love herself with Tyler Johnson. Now she's a wife and mother and her time on The Bachelorette must seem like another lifetime (because, honestly, it was 2012 — it does seem like a lifetime ago with the year everyone had just been through).
Emily's season of The Bachelorette happened before I became a full-fledged citizen of Bachelor Nation, and I know I'm not alone in that — so I'll give a little background. Emily was a single mother at the time, and Arie came pretty far in the competition. He ended up the runner-up (there's a race car pun here somewhere) and said he fell in love with her. Arie actually said he hasn't loved someone the same way since Emily, which will make this Bachelor season even more interesting. There doesn't seem to be any bad blood despite the fact that Emily broke his heart way back when. During Monday's premiere, Emily tweeted not once but twice to support Arie:
"Wishing [Arie] all the best this season and hoping he finds his forever love in the end," she wrote. She also joked that she doesn't want anyone else from her Bachelorette season on the show because she doesn't want to relive any of it; I can't necessarily relate, but I certainly empathize. This isn't the first time Emily is seeing one of her exes as the Bachelor lead. Season 17's Bachelor, Sean Lowe, was also on Emily's Bachelorette cycle. It turned out super well for him — and they routinely trot him out every season to prove that this... unconventional way of finding love can actually work. Sean ended up marrying the winner of his season, Catherine, and they are now expecting their second child.
Seeing as The Bachelor worked out so well for Sean, maybe there's some good vibes coming Arie's way next. At first, though, it seemed that Emily wasn't really into it. Emily said she actually wouldn't watch this season of The Bachelor. She told People, "I've been rooting for Arie to be the Bachelor since my season ended — he's a great guy." She said that while the show will be great TV, it won't be on in her house. Emily continued, "I feel like it would probably not be appropriate."
Despite this, it seems that Emily is under the same exact spell that everyone else in Bachelor Nation is when a new season starts (I remember when Arie was announced and some said they wouldn't bother watching — but now it's actually here and I'm sure they've all had their DVRs set for weeks).
Even though she said she wasn't going to tune in, I'm glad Emily took the plunge and turned on ABC on Monday night. It's also awesome that she has nothing but good wishes for Arie; I hope that it's an indication of what a good guy he is that she genuinely wants him to find love. It's only night one, but maybe viewers will see beginnings of a love story with Arie and one of the contestants. Between all the introductions and early drama, though, I wouldn't be surprised if we have to wait for a little while — but that just means we all have to keep watching to see who Arie does fall for. It's good to know that Emily will be on this ride with the rest of Bachelor Nation.
Check out Romper's new video series, Romper's Doula Diaries:
Watch full episodes of Romper's Doula Diaries on Facebook Watch.