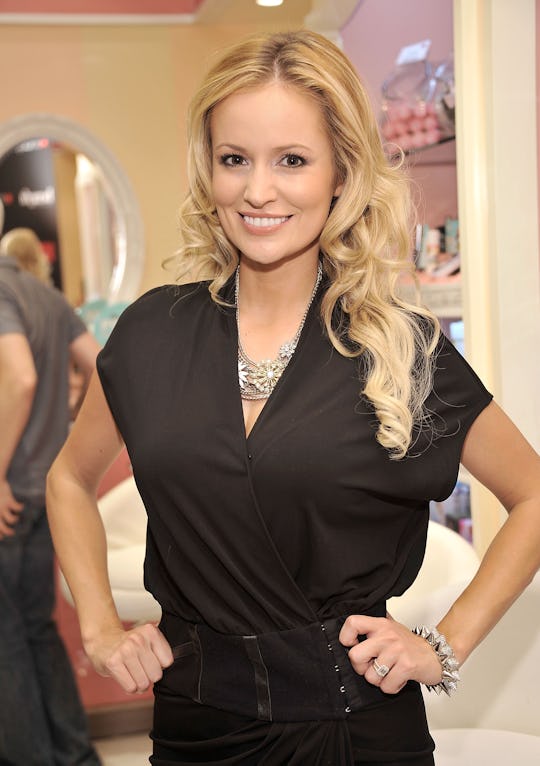 Gary Gershoff/Getty Images Entertainment/Getty Images
Emily Maynard's Quotes About Motherhood Show How Difficult & Awesome It Is
From beloved Bachelorette southern belle and single mom to budding boutique business owner, Emily Maynard has won America's hearts many times over. Her heart has been won, too, it seems, by her children. Through all of her ups and downs, Emily Maynard's quotes about motherhood show that it can be the hardest and most rewarding gig of all. Even though she has seen her share of struggles since becoming a mom, she remains loving and dedicated to her family — a testament to the strength of character that she first introduced to the public on reality TV.
When she appeared on The Bachelorette, it was just her and her daughter, Ricki. Being a single mom to an only child, Maynard cultivated a strong relationship with Ricki. Many of her interviews from that time touched on the special bond they shared. And while her heart was full with love for Ricki then, it seems to have expanded enough to include a few more people.
Her family has grown quite a bit since those day — and it is still growing. After marrying her husband, Tyler Johnson, the two went on to have two children together. And now, Maynard and Johnson are expecting once again. She has spoken out numerous times about the many difficulties and rewards that come with parenthood. Her statements have been candid and deeply personal, highlighting the multifaceted nature of motherhood.
On Being Both A Mother And A Businesswoman
In an interview with The Muse, Maynard discussed the complexities of launching her own business while raising Ricki. While on the topic, she also touched on the importance of work-life balance as a parent:
So when it comes to juggling your work and your kids, it's all about balance. For example, I work through the day while Ricki's at school, but once she's home, I try my best to put away my cell phone, put away my laptop, and really focus on being a mom. In the end, I hope to inspire Ricki to do something that she really loves — but show her that she can make time for family, too.
On The Loneliness Of Motherhood
Maynard spoke with The Bump about her journey through motherhood, but she didn't gloss over the difficult parts. As many moms know, motherhood can be a bit isolating:
A lot of the time, you're stuck at home with baby and you can't leave. I sometimes feel like I go through the whole day before realizing I haven't talked to another grown-up. Ricki's so much older, so I forgot how hard the baby stage is. I don't think people give moms enough credit — it's a lot of work.
On Having More Children
With three children and one on the way, Maynard may not be slowing down any time soon. She told People that she may go on to have a lot more:
I have three kids now and I feel like once you get past two and you keep adding, it's just like 'Whatever.' You could have 18 kids and it really doesn't make that big of a difference. You're stroller gets bigger, but that's it. I want to have maybe two more. [My daughter] Ricki is so much older, she's just more of a help than anything else. So, we'll see!
On The Bond Between A Mother And Her Children
Before having more children, Maynard spoke with The Huffington Post about the connection that she shares with Ricki. While she was speaking on being a single mom in particular, her statement is true regardless of how many children you have:
There is no other feeling like being a mom. People tell you that you won't know it until you experience it. They're right. There is nothing like it.
Despite her struggles as a single mom, and her two failed Bachelor relationships, Maynard has overcome it all to find her happily ever after. With her "the more the merrier" attitude towards growing her family, we can possibly expect even more bundles of joy in the future. Until then, I hope she's enjoying the ride. She deserves it.