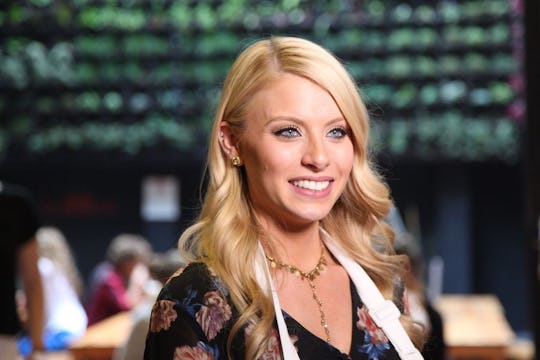 ABC
Emily Told Ben About Olivia & It Was The Twin's Best Moment So Far
Up until now, there was little we knew about The Bachelor contestant and self-identified twin, Emily Ferguson other than she was willing to throw her sister under the bus to get a solo shot with Ben Higgins. But this week, Emily told Ben about Olivia's true character, earning her respect among fellow contestants and fans alike. Yes, it was a teary, and melodramatic affair, but we were so happy that someone finally said something.
Right before the rose ceremony (and the horrific cliff hanger that followed), Emily was sitting down with the other women, waiting for her shot to get some alone time with Ben. In the middle of Amanda discussing her kids, Olivia threw some serious shade her way, telling Amanda that she "feels like she's watching an episode of Teen Mom." While Amanda remained cool, calm, and collected, Emily wasn't having it.
"God, that was the most offensive thing in the world," Emily said. "And the fact that she said something like that made my jaw drop to the floor."
That crocodile tears that Olivia managed to squeeze out while apologizing to Amanda was just about it for Emily, and sh*t finally got real. Grabbing Ben, Emily let everything that she had been feeling about Olivia out. Yes, the angry crying was a bit much, but we are all giving her a standing ovation.
"Olivia has just been disrespectful," she told Ben, "and you giving her the rose the other night just made me think if I'm the right one for you."
Luckily, Ben was willing to hear her out, asking her for more details about how she felt disrespected. Naturally, Olivia had to squash the rebellion against her before it truly took root, but the damage was already done. Once Emily finally came forward, Amanda and Jennifer followed suit with stories of how Olivia has disrespected them.
You could practically hear Bachelor Nation cheer from their couches.
Though it's too soon to tell if Ben pulling Olivia aside means that he's taking away her rose and sending her home (gasp!), we can thank Emily for planting the seed in Ben's mind about the game that Olivia is playing. We love Ben after all, and the last thing we want is to see him go home with the most fake girl in the house.